Thousands of Brazilians are taking to the streets in protest at the government's lavish spending on the 2014 football World Cup.
Police, teachers and bus drivers are also striking, demanding better conditions.
The rallies have drawn crowds of over 20,000 people in 12 cities, characterised by burning the national flag of Brazil to highlight the intense feelings of many locals.
Organisers of the protests said they are highlighting wasteful spending, corruption and police brutality.
At a protest that blocked Sao Paulo's main business street on 15 May, thousands of people massed together, holding up banners reading: "Brazil, 1<sup>st Place in Corruption." They denounced Fifa and urged tourists and football fans not to visit the World Cup, due to start on 12 June.
"We are here because the government is spending 30 billion reals (£8bn) on stadiums and not meeting the people's needs, because they say there is no money," Thiago, a 25-year-old student told the Times.
During the protests, the names of the construction workers killed during building football stadiums were projected on to buildings.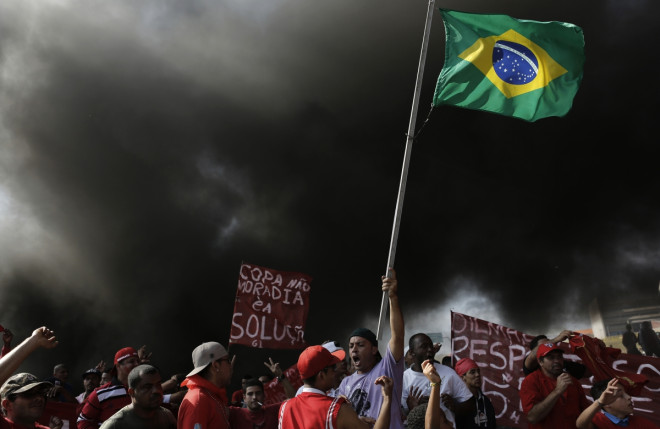 Fifa has said that the football tournament will eventually help Brazil. "The World Cup is a way to speed up [investment] in a country. It is easy to criticise Fifa, it's easy to use the Confederations Cup or World Cup to organise demonstrations. But the target is wrong if [it] is that Fifa are the reason for what's happening in a country. If a country is bidding for a World Cup, it's with the idea of developing the country," Fifa's secretary general, Jerome Valcke, told the AFP.
In other parts of Sao Paulo, thousands of teachers barricaded the streets, pressing for pay rises and better materials for state schools.
"People are dying of dengue fever and the government is doing nothing," said Monica Ferrera, an English teacher. "We feel we are lost; the government is not helping us."
In Recife, another World Cup city, police are on strike for higher wages, leading to a rise in murders and looting.
Rio's public transport all but stopped last week, as bus drivers started a two-day strike, leaving commuters stranded.
Police at borders and airports also went on strike as well as workers in 17 Brazilian consulates in the United States and Europe, who began a two-day strike on 13 May. This could cause delays for people waiting for a visa to travel to Brazil.
"Our demand is simple: they need to replace the lost wages they have not raised in recent years," Marcia Ramos, a representative of the consulate workers, told the news media in Brazil via email.
Thousands of homeless people marched on Sao Paulo's World Cup stadium, which is still not completed, despite hosting the opening match in June.
"While Brazil does have experience of major works I have come across few things running so far behind as the World Cup," Lamartine Pereira da Costa, professor of Olympic studies and sports management at Rio's UERJ University, told the South China Morning Post.