Thousands of fans for the Brazilian Chapecoense football team, whose players were decimated in a plane crash in Colombia, have gathered to mourn their fallen heroes.
The Cinderella team had been due to face Atletico Nacional in South America's equivalent of the Europa League. However, young team's lives and fans hopes of glory were cut short. A regular sentiment expressed among the people of Chapeco, the club's hometown, is that their dream has turned to a nightmare.
In Chapecoense's s home stadium, the Arena Conda, fans gathered in a deep state of shock to pray and sing the teams anthems in a candle-lit vigil. Dressed in the club's colours of green and white, a number of the fans took to the pitch.
Elsewhere in the city fans of the team lined the streets, filling the roads around the stadium to show support while in Chapecoense's cathedral, worshipers donned their football strips and held hands in payer.
Seventy-one people were killed when a plane chartered by the football team and, operated by airline Lamia crashed in a wooded, mountainous area outside the Colombian city of Medellín.
The crew on board the flight declared an emergency at 10pm local time on Monday (3am GMT, Tuesday) because of an electrical failure. The team were only about five minutes from their destination when they crashed.
The aircraft was transporting Chapecoense for the first leg of a two-game Copa Sudamericana final against Medellin team Atletico Nacional.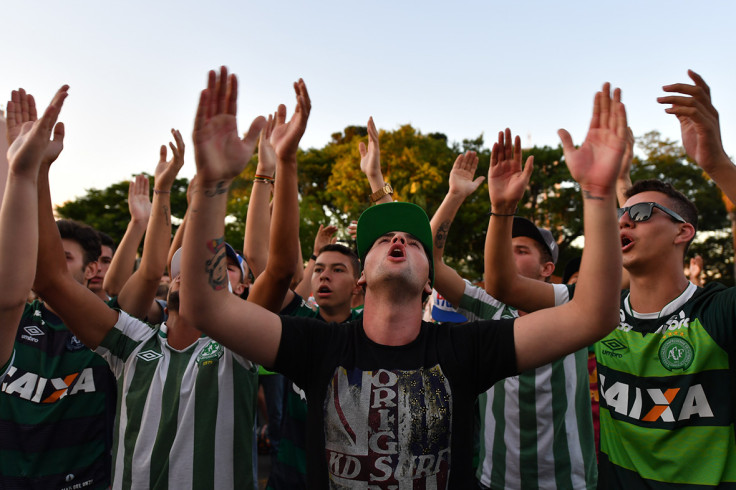 Various places around Brazil and Colombia have held vigils for the victims of the crash The Brazilian president, Michel Temer, declared three days of national mourning after the crash with the South American football federation suspending all activites in the wake of the crash.
In the wake of the crash, messages from the families and loved ones of the victims have started to emerge. Alside Padilha whose son goalkeeper Danilo survived the crash but then died in hospital said the loss hadn't set in. "My heart is in pieces. I'm in a lot of pain. It is incredibly difficult. I never thought I'd go through this. It still hasn't set in," she told Reuters.