Thousands of protesters took part in a demonstration against the Iranian regime in Pasargade, the site of the tomb of Cyrus the Great.
Prior to the 28 October protest, authorities reportedly took measures to limit the impact of the demonstrations, sealing off roads to Pasargade and stationing plain clothes security agents by the site of the tomb.
Residents of Pasargade had also allegedly been told they were not permitted to have guests to stay around the time of the anniversary of the birthday of Cyrus the Great, when the protest took place, while Internet in the area was also reportedly shut down.
But despite rumours the whole area was closed – with tours to the tomb also cancelled – demonstrations went ahead as planned, with thousands of people making their way to Pasargade from cities around the country, the National Council of Resistence of Iran (NCRI) reported.
Shahin Gobadi, of the Foreign Affairs Committee of the NCRI, said: "None of these schemes could prevent the gathering from taking place.
"The long line of vehicles and the large scope of the participants were clear indications of the Iranian people's hatred towards the unpatriotic regime.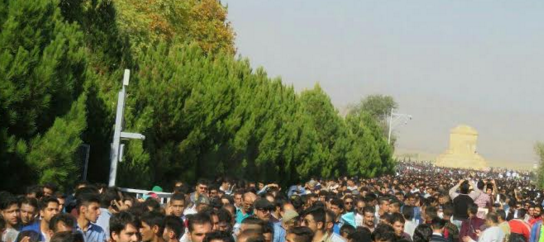 "This regime is incapable of standing up against the Iranian people's desire and will to achieve democracy and popular sovereignty."
The protesters chanted: "Iran is our country, Cyrus is our father," and clerical rule is synonymous with only tyranny, only war."
It is not yet clear if there were any repercussions from the authorities for those who took part in the demonstrations.