Thousands of people around the world have marched calling for more action to stop the poaching industry, following fears the ivory trade could make elephants and rhinos extinct within the next 20 years.
The Global March for Elephants and Rhinos (GMFER) took place in cities across Africa such as Cape Town, as well as cities in six other continents, including Sydney, London and Tokyo.
The aim of the march was to put pressure in governments to stop poachers killing animals for their ivory, which is still used in Asian countries in traditional medicines.
Thousands of people across the word held banners reading "hands off our rhinos" and "elephants need your help" as part of the march.
According to the organisers, 35,000 elephants and 1,000 rhinos are killed each year due to the illegal ivory trade. This is the equivalent of a rhino being killed every 9 to 11 hours, and an elephant every 14 minutes.
The group predicts that at this rate, both species could become extinct by 2034.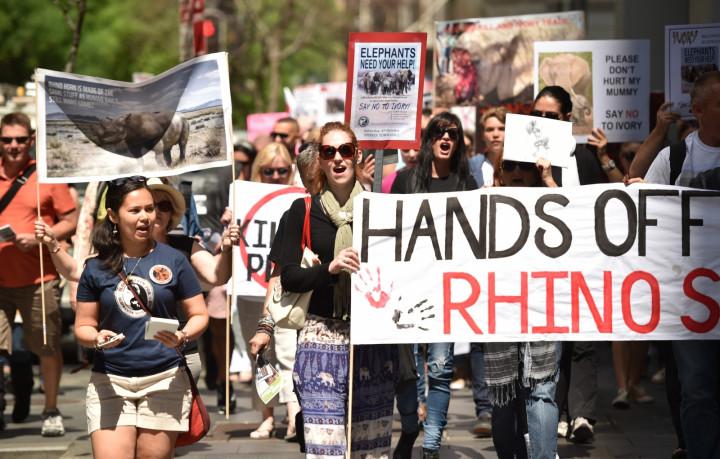 "We are protesting against the political leaders of the world who do not have the guts and political will to make changes in their laws," Dex Kotze, one of the march organisers, told AFP.
"We have to do this for our future generation. The youth today is making a statement globally in 136 cities that it's their heritage that is being killed for hundreds of years, it's going for stop."
Kotze said the number of elephants in Africa has dramatically deceased from 27 million 350 years ago to just 400,000 today. Roughly 9% of those left are being killed for their tusks, he added.
Kotze said the poaching industry is worth more than £12bn ($20bn) a year and terrorist organisations such as al-Shabaab are "using ivory trafficking and exchange ivory for weapons".
In South Africa, one of the African countries where rhino poaching occurs the most, more than 700 rhinos have killed so far this year. In 2013, the total number of rhinos killed was 1,004.
Maria Mossman, co-organiser of the London march, added: "It would be devastating and criminal if elephants and rhinos went extinct within 20 years, but that is the frightening reality. It could happen. It will happenif something isn't done."