Three men facing US terrorism charges pleaded guilty on 12 May to conspiring to provide material support to the Islamic terrorist group al Shabaab in Somalia. The men include a former British national and two Swedish citizens.
According to Reuters, 25-year-old Madhi Hashi, 30-year-old Ali Yasin Ahmed and 32-year-old Mohamed Yusuf pleaded guilty to one conspiracy count at Brooklyn Federal Court. Their guilty pleas came shortly before potential jurors were set to receive questionnaires for the 1 June trial.
"I agreed along with others to provide support to a designated foreign terrorist organisation by the United States, specifically al Shabaab in Somalia," Hashi said. The 25-year-old's UK citizenship was revoked in 2012.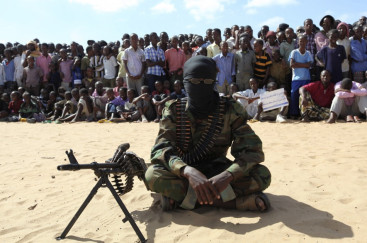 By pleading guilty, the men will be spared the 30-years-to-life in prison sentenced if convicted on all the charges against them, Reuters reported. The three men, who were all born in Somalia, will instead face a maximum of 15 years in prison and deportation following their release.
Prosecutors said that the men participated in weapons and explosives training with members of al Shabaab and agreed to support the group from 2008 to 2012. According to Reuters, authorities also said that the trio was deployed in combat operations and participated in a suicide bomber programme.
However, the case does not allege that the men intended to carry out terrorist acts in the United States. Ahmed's lawyer Susan Kellman told reporters the men did not intend to hurt the US but wanted to head to Somalia "to fight for their country."
Nevertheless, US Attorney Kelly Currie said that they men supported an organisation that "has publicly called for attacks against the United States". According to NY Daily News, Assistant Brooklyn US Attorney Shreve Arial said the defendants used the Internet to recruit fighters to travel to Somalia and join al Shabaab.
The men were arrested in August 2012 in Djibouti after illegally crossing the border to Yemen in an attempt to join al Qaeda in the Arabian Peninsula. US District Judge John Gleeson is scheduled to sentence them on 25 September.