At least five New England Patriots players have announced they will not visit President Donald Trump at the White House after the American football team's historic Super Bowl victory on Sunday (5 February).
On Thursday (9 February), two more joined the growing list of Patriots players who would not be joining their team at 1600 Pennsylvania Ave. According to Boston.com, defensive end Chris Long tweeted that he never had plans to go to the White House in response to an open letter written to him by Chuck Modiano of the New York Daily News.
"Oh Chuck. Planned on skipping, hadn't been asked. Don't need an open letter explaining my own words to me. Not *joining* anyone. My call," he tweeted.
According to WBUR, running back LeGarrette Blount also made his intentions clear on Thursday. "I don't feel welcome [in] that house. I'll leave it at that," Blount told The Rich Eisen Show.
Meanwhile, Linebacker Dont'a Hightower said on Wednesday (8 February) that he has no intention of visiting the White House.
Hightower told ESPN that he has "been there, done that" referring to trips to the White House. The 26-year-old noted he also skipped a visit to the White House during President Barack Obama's administration in 2014 when the Patriots last won the Super Bowl. He last visited the White House with his championship-winning team at the University of Alabama, The Hill reported.
Tight end Martellus Bennett and defensive back Devin McCourty also announced their decision to not attend the traditional presidential celebration following the Super Bowl. Both players cited political reasons for their decisions.
After the historic comeback by the Patriots on Sunday, which resulted in the fifth Super Bowl ring under Coach Bill Belichick and star quarterback Tom Brady, Bennett told reporters that he would not go to 1600 Pennsylvania Avenue. "It is what it is," he told reporters. "People know how I feel about it. Just follow me on Twitter."
The outspoken athlete has expressed his opposition to Trump on Twitter in the past. "I don't support the guy that's in the house," Bennett said. In January, the 29-year-old tweeted: "America was built on inclusiveness not exclusiveness."
The Boston Herald's Stephen Hewitt reported Bennett said he hoped to raise awareness about inequality in the US and to encourage fans to discuss the topic.
McCourty also cited Trump as the reason he would not join his teammates in Washington. "I'm not going to the White House," he told Time magazine. "Basic reason for me is I don't feel accepted in the White House. With the president having so many strong opinions and prejudices I believe certain people might feel accepted there while others won't."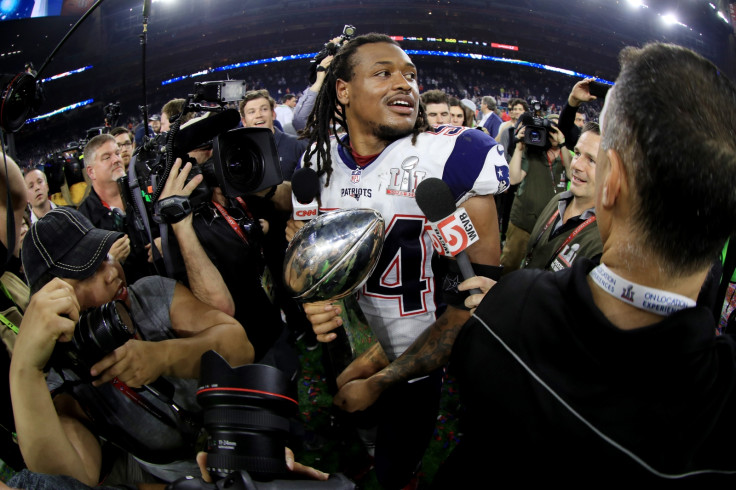 Other players may soon join in the boycott. USA Today reported that Patriots running back James White is also considering whether he should make the trip. White, who set a Super Bowl record with 20 points scored, told SiriusXM NFL Radio on Tuesday (7 February): "I'll wait 'till the time comes and decide then."
The Patriots have been closely associated with Trump, as the president has repeatedly spoken about his relationship to team owner Robert Kraft, coach Bill Belichick and quarterback Tom Brady. The quarterback, who never explicitly endorsed Trump, but displayed a "Make America Great Again" cap in his locker during the campaign, did not attend the team's last visit to the White House in 2015, The New York Times noted.
This year's visit by the Lombardi Trophy winners has not yet been scheduled.
This story has been updated to include the public decisions made by Chris Long and LeGarrette Blount on Thursday (9 February).