She may not have been up for any awards at Sunday night's (4 March) Oscars, but Tiffany Haddish definitely stole the show on the biggest of stages.
The 38-year-old breakout star of last summer's Girl's Trip made sure her presence was felt at her first Academy Awards from the second she made her red carpet debut wearing a traditional Eritrean gown in honour of late father Tsehaye Haddish, who was from the African nation and passed away last year.
"He said one day I would end up here and if I ever ended up at the Oscars to honor my people so I'm honoring my fellow Eritreans," she proudly declared when asked about the cream and black gown which featured gold embroidery by People magazine.
The SNL alumni also made good on her promise to "hunt down" Meryl Streep after revealing her obsession with the 68-year-old screen legend.
"Meryl better bring her best security, because I'm hunting her down," she told Vanity Fair in January. "I'm showing up, and I'm gonna be right there like, 'Meryl, you have played all of these roles—but you never been my mama.' I'm gonna pitch her all these different ideas I've got for her to be my mama."
So when Haddish spotted Streep down the press line on the red carpet, her fangirl moment made for TV gold. She hitched up her gown, climbed over a velvet rope and made a beeline for her idol to ensure she made contact.
"Tiffany Haddish is me if I ever encounter Meryl Streep," one viewer wrote on Twitter.
For the rest of the evening, Haddish fully embodied the catchphrase "the gift that keeps on giving".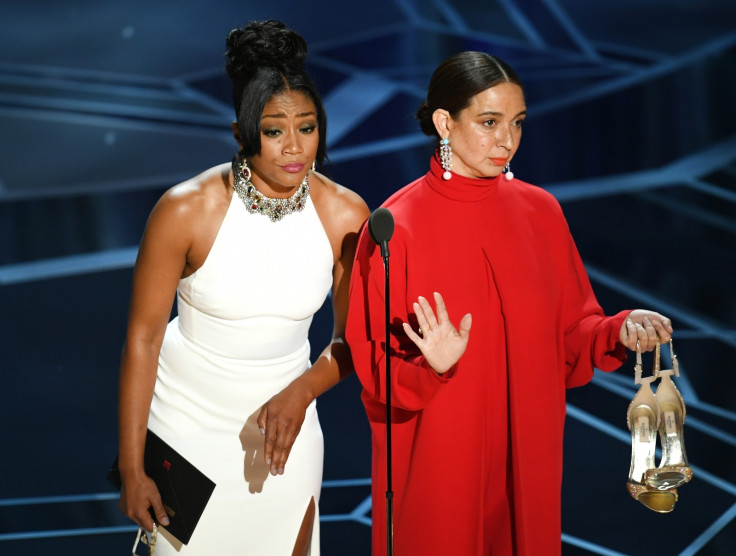 She changed into the same $4,000 white Alexander McQueen dress that she sang about and has worn multiple times. It's rare to see the rich and famous recycling their outfits for big events so her desire to get her money's worth is refreshing. Her wardrobe change did not go unnoticed either.
"And this is why Tiffany Haddish is me. If I pay 4K for a dress, I'm wearing it at my wedding, three awards shows and you gotta bury me in it," one person said. Another wrote: "Heaven is Tiffany Haddish wearing her SNL dress to every awards show."
Her five minutes on stage with Bridesmaids star Maya Rudolph to present the Academy Awards for Documentary Short and Live-Action Short prompted calls for her to take over Oscar hosting duties next year.
Amerca's Next Top Model host tweeted: ''Queen @TiffanyHaddish should host the #Oscars one day! Retweet if you agree! Let's get her some money!''
And pop superstar Katy Perry even suggested that the pair should run for office, writing: "#RudolphHaddish2020 (sic)"