Tim Kaine acknowledges differences with Hillary Clinton over abortion funding
Kaine said that while he has his personal views, the government should not 'intrude' on women's decisions.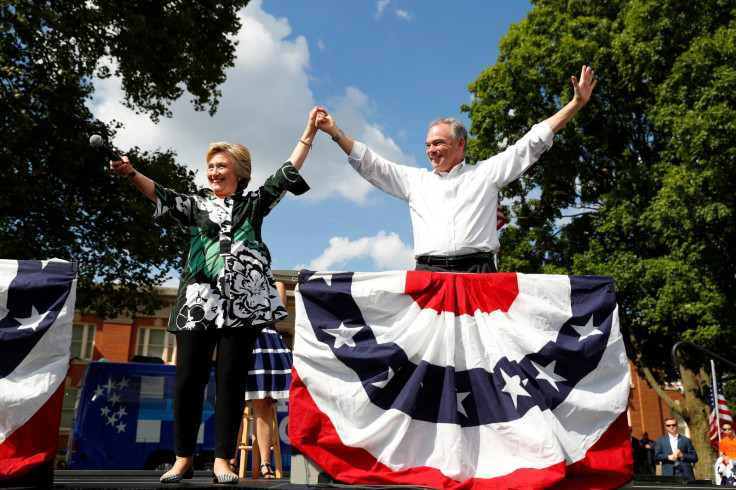 Democratic vice presidential nominee Tim Kaine acknowledged he and presidential nominee Hillary Clinton differ on their views on abortion funding. Kaine, who as a Catholic is personally opposed to abortion, does not believe the government should intervene in a woman's right to choose.
According to ABC News, the Democratic running mates do not see eye to eye on the federal Hyde Amendment that restricts Medicaid funding on abortion. Clinton has promised to repeal the Hyde Amendment, which prohibits the use of federal funds for abortions except in cases including rape, incest or to save the mother's life.
"My voting position on abortion hasn't really changed," Kaine said on CNN's State of the Union. "I am a Catholic and I accept the church's teaching on this issue, but I do not believe that the job of somebody in public life is to basically say, 'I'm a Catholic so my job is to make our lives consistent with Catholic doctrine and make everybody follow it.'"
The Virginia senator went on to contradict comments by Clinton campaign manager Robby Mook that he would stand with Clinton to repeal the Hyde Amendment, CNN reported.
"I support the Hyde Amendment. I haven't changed that," Kaine said. He noted that he had considered his differing views over abortion before joining Clinton's ticket. As a potential running mate, he said: "I had to get comfortable with the notion that I can have my personal views but I'm going to support the president of the United States and I will."
Kaine added: "This is an important personal matter and I've always supported Roe V Wade. I think the last thing we need is government that intrudes upon the decision-making of women and men too when it comes to matters of whether it's abortion rights, contraception".
The vice presidential nominee also discussed Republican presidential nominee Donald Trump and unifying the Democratic Party. While he refused to directly comment on Trump's sanity, he did criticise the real estate mogul's call to Russia to hack into Clinton's missing emails. "I don't think cyber security is a big joking matter," he said. "The guy's got a bizarre sense of humour."
Kaine noted that there is work to be done to unify his party but said he felt like they were "in really good shape." The senator said arguing factions within the Democratic Party were healthier and better than the Republican party.
"I was Democrat Party Chair, so I'm used to the fact that we're a big family with a lot of different points of view. I think that Bernie did a good job this week by telling his folks why Hillary was right and why Donald Trump is you know, directly contrary to every value he's ever held or advocated for in his entire life," Kaine said.
ABC News reported Kaine is on the final day of a three-day bus tour with Clinton through the critical swing states of Pennsylvania and Ohio.
© Copyright IBTimes 2023. All rights reserved.