The driver of a vehicle which ploughed into pedestrians while speeding in New York City's Times Square has been named as 26-year-old Richard Rojas.
The crash took place at about 43rd Street and 7th Avenue in Midtown Manhattan at around noon local time (5pm BST) with the alleged driver attempting to flee the scene afterwards.
The incident has left an 18-year-old woman dead and 22 injured, with four said to be in critical condition.
Photos taken at the scene appear to show that the 2009 Honda Accord crashed into barricades on one of the world's most famous streets leaving it lodged a few feet off the ground.
Police have said that there is no evidence that terrorism was the reason behind the crash and named Rojas, from the New York borough of The Bronx, as their prime suspect.
Speaking to reporters, police confirmed Rojas has been arrested at least twice before for DWI (driving while intoxicated) and some onlookers said he attempted to punch a police officer in the face as he exited the vehicle.
New York's mayor Bill de Blasio said that Rojas is a US citizen and a military veteran who had a criminal history.
"The perpetrator is in custody. He's a United States citizen and former member of the armed forces with the United States Navy. He has a criminal history," the mayor said.
"Based on the information we have right now, there's no indication this is an act of terrorism," he added.
Rojas is alleged to have been seen speeding the wrong way down Seventh Avenue toward the busy tourist venue, before the horror smash. He was later seen being arrested and thrown in the back of a NYPD marked patrol car.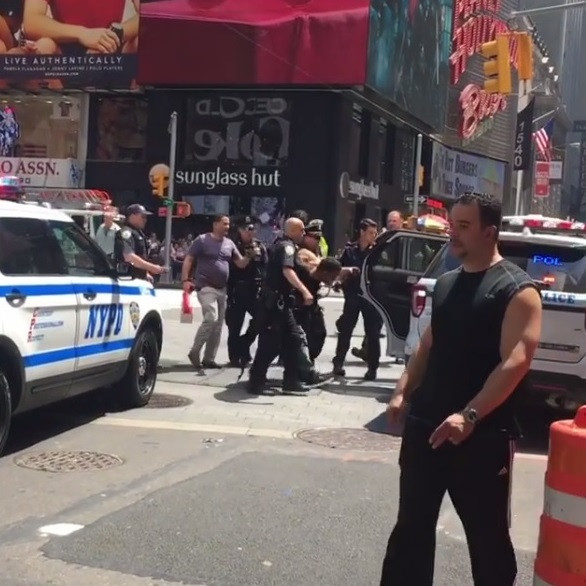 The New York Post reported that the suspect was arrested on 11 May this year in The Bronx for threatening someone who came to his house to get an annuity notarised.
It was reported that Rojas was a notary - a person who can sign formal documents or take affirmations or oaths in the US.
Rojas accused the person of stealing his ID before he put a knife to the victim's throat, police said, reports the paper.
He was charged with menacing and criminal possession of a weapon, but pleaded guilty to harassment, said the NYPD.
They added that Rojas was also charged with drunk driving in 2008 and 2015, according to the Post.
The incident sparked fears of a terror attack, on the streets of the city that is all-to-familiar with the damage that terrorism can cause, after 26 were injured in a pipe bomb that exploded in the city in September last year.