It looks like Jay Z is not the only star being outed by his other half. The husband of Afrobeats singer Tiwa Savage left fans stunned on Thursday (28 April), when he accused her of being unfaithful and declared that their marriage was over in rant on Instagram.
Tee Billz, real name Tunji Balogun, also made allegations against the singer's mother, claiming she had cursed him and caused his career to wither. Savage makes no secret of her closeness with her mother, who she has often credited for her success due to the impact she had in her life while growing up.
In one post he shared an unflattering picture of his wife with the caption: "@tiwasavage this was you when I met you with 100% insecurity. I remember when Wale called me about a girl that's got talent and u told him I wasn't interested!"
He continued: "Please just take care of JamJam [their son]. I sacrificed my life for you and put in work and my money to your success. You are Tiwa Savage the super star now right. You will never have peace with that fame. Your mother wants to turn me to what she turned your DAD to? I will rather Die. Ask her to confess what's she's done to me! All I did was look out for your success and forgeries g who I am."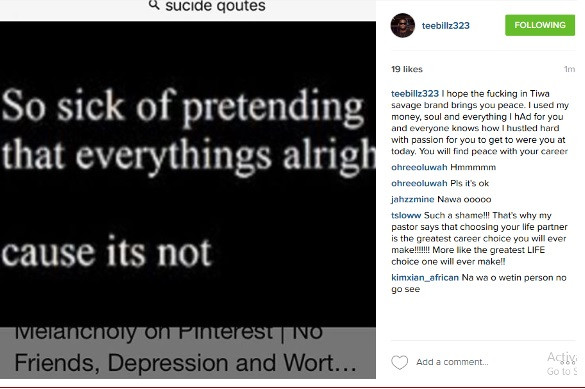 The father of three went on to suggest that he was preparing to take his own life and apologised to his children for letting them down. He signed off with a goodbye message saying 'Thanks to your mum's witchcraft' and once again urged Tiwa Savage, "Tell her [the mum] to confess to you". He has since deleted the posts from his page.
Within minutes the couple began trending on Twitter, with some fans claiming that he may have been hacked.
Tee Billz's meltdown comes almost two years to the day that the couple tie the knot in a star-studded wedding at Dubai's Armani Hotel.
Savage, who competed on the UK version of The X Factor in 2006, is an award-winning singer-songwriter. The Eminado hitmaker is part of Don Jazzy's musican collective and is often dubbed the Mavin First Lady. Speculation has been rife that the couple's marriage was in trouble since she reportedly sacked him as her manager in 2015.