Tom Hiddleston cuddles an adorable baby leopard on The Late Late Show With James Corden
Tom Hiddleston had fans purring in delight following his appearance on The Late Late Show with James Corden when he held and cuddled a baby clouded leopard. Dreams can come true…
The Thor actor was awestruck by the two-month-old wild cats, which are a vulnerable species that come from the Himalayan foothills through mainland south-east Asia into China. Hiddleston joined funny man Corden on his CBS chat show on 25 April to discuss his role in The Night Manager, set to show in the US on AMC. He also touched on his movie High Rise and bantered with fellow guest Thomas Middleditch.
But as the trio chatted, Corden spiced up the interview by welcoming zookeeper 'Jungle' Jack Hanna, who happened to bring along the two adorable baby leopards before handing them over to the two Toms.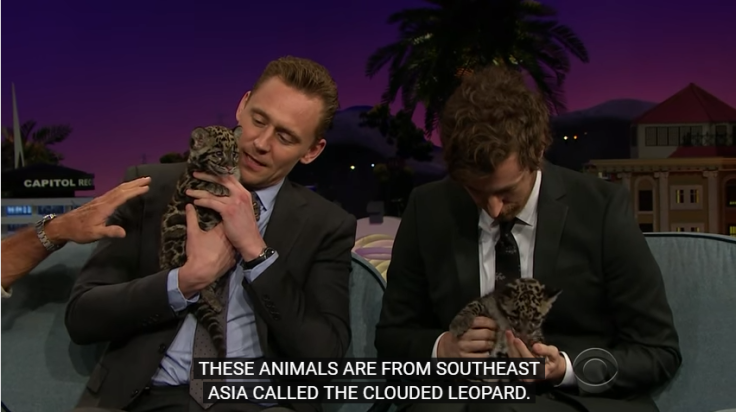 Whilst Hiddleston couldn't wait to get his paws on his designated fluff ball, Middleditch resisted at first, before nervously stating: "I love cats! I'm eager. I'm so excited."
A dapper looking Hiddleston, 35, quietly quipped, "He's so sweet," before caressing the adorable cat. At one point, the baby leopard climbed up Hiddleston's shoulder and around his neck, prompting the actor to burst into laughter. The British star also divulged that he had the rather bizarre nickname at school of 'Hiddle Piddle Did a Widdle in the Middle of the Night' during the hilarious interview.
Zookeeper Hanna told the audience a bit about the extraordinary leopards, claiming: "They get to about 75lbs – there's maybe 200 left in the world. The Columbus zoo and all the zoos in the country work very hard to bring these about where some day we can get them back out there. This is the only cat in the world that spends 90% of its life in trees."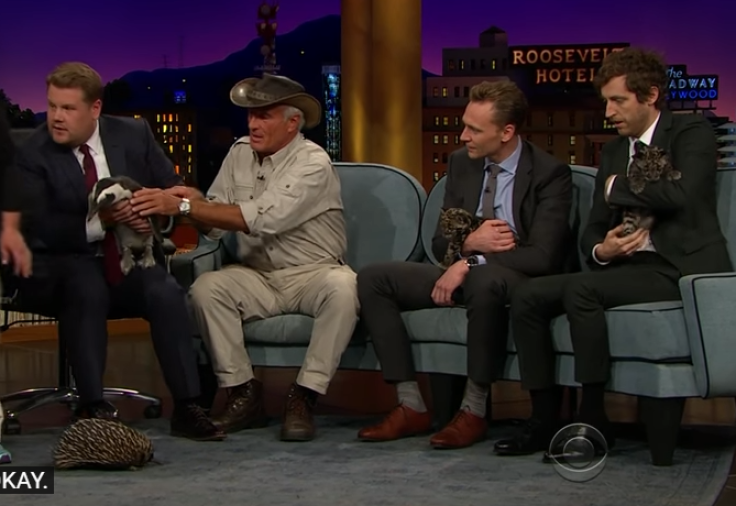 Later, Hanna surprised Corden and his famous guests with a baby bearcat, an uncommon mammal that grows up to be a killer that has the ability to kill an elephant with its poisonous venom. Corden joked: "Jack, I love it when you come on, but can you stop talking about how the animals will kill us."
Last but not least, a black footed penguin nonchalantly graced the stage, to Corden's delight, with the British host exclaiming: "Oh my God. That is the best. I love penguins so much!" along with a porcupine, which none of the guests seemed keen on petting.
© Copyright IBTimes 2023. All rights reserved.