Tonnes of Clothes Destroyed in Asos Warehouse Arson Attack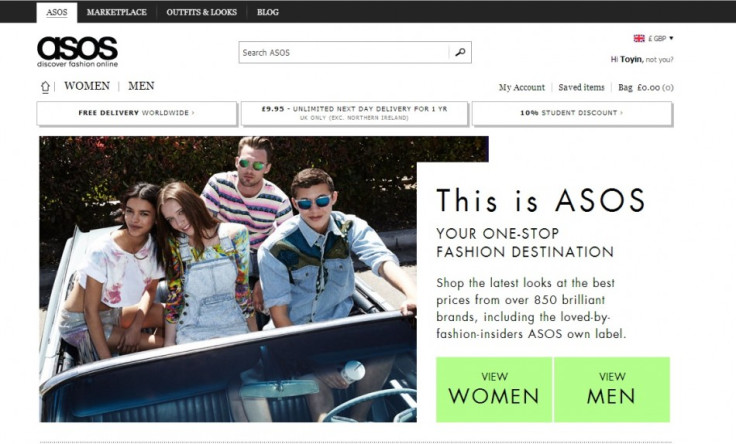 A fire at an ASOS warehouse has destroyed hundreds of tonnes of clothes.
More than 50 fire fighters were called to attend to the blaze on Friday night (20 June) at the firm's headquarters in Barnsley, South Yorkshire.
The fire ripped through four floors of the online fashion giant's only British warehouse, which is the size of six football pitches and handles £1.2 billion in sales a year.
Asos said in a statement: "We have been advised by the South Yorkshire Police that after initial investigations, they are treating the incident as deliberate and have commenced a criminal enquiry. We are cooperating fully with this investigation."
Investigating Fire Officer for South Yorkshire Fire and Rescue, Simon Rodgers, said: "The fire involved four floors of the warehouse and the blaze was contained in the area of origin by fire fighters.
"ASOS staff had a good evacuation process in place which assisted the emergency services and allowed the fire to be brought under control more quickly."
500 staff were safely evacuated from the building and while no one was injured in the fire, thousands of potential customers have been left without their orders.
The company's mail order website was out of operation and featured a message to its customers saying that ASOS was 'pausing' all new orders as the clean up operation begins.
The statement read: "Dear Customers, we have pressed pause on the ASOS website, this is due to a fire in our Barnsley distribution centre in the early hours of Saturday morning."
Staff have not yet been allowed back into the building.
ASOS spokesman Matthew Smallwood said ASOS's "overriding concern" was its staff, stating: "We are very relieved that no one has been hurt."
Responding to customer queries regarding existing orders, Small wood said: "I can confirm that some orders have been delayed but cannot confirm how many at the moment.
"Customers will either receive a full refund or get their orders as soon as possible."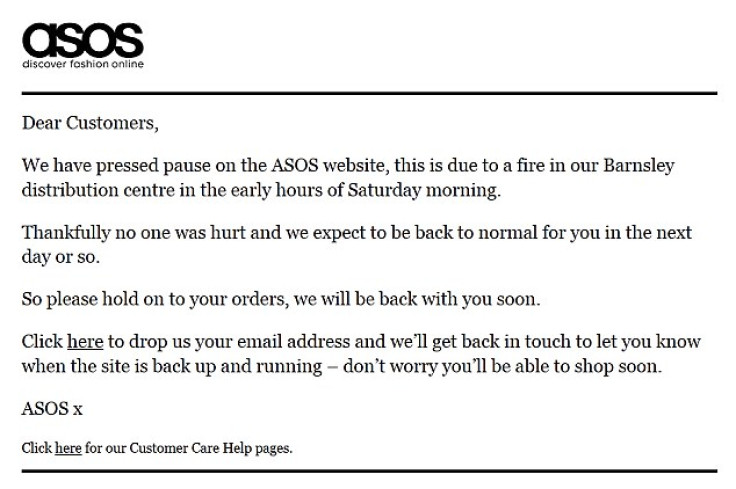 While some orders have been delayed, the warehouse is expected to be fully operational tomorrow. (22 June)
Photos have emerged of a mountain of shoes, shirts and dresses outside the warehouse.
The spokesman said it was too early to assess the damage to the warehouse or the long-term implications for the business.
"As in any fire there are some items that are fire damaged, some that are smoke damaged and some that are water damaged."
While most consumers have been understanding regarding the delays in delivery of their items, others turned to Twitter to expressed their frustration.
@Lameese_Yousif said: 'Can't believe I probably won't receive my prom dress. Thanks a lot ASOS.'
One of Britain's fastest-growing online firms, the retailer sells fashion and beauty products and last year made sales of more than £750million.
In 2005, ASOS stopped trading over Christmas after an explosion at the Buncefield oil depot near its previous warehouse in Hertfordshire.
Earlier this month it was reported that the company's shares plunged nearly 38% in early trading after the online retailer issued a profit warning for the year.
© Copyright IBTimes 2023. All rights reserved.