A letter from then-Prime Minister Tony Blair to Libyan dictator Mu'ammar Gaddaffi in 2007 appears to apologise for not being able to have Libyan dissidents returned to the country, where they would almost certainly have been tortured.
In the letter, on Downing Street-headed paper dated 26 April 2007, Blair cordially addresses Gaddaffi as "Dear Mu'ammar", before going on to express Blair's disappointment that the Court of Appeal was about to reject a request to deport the two men as there was concern they may be tortured.
Blair writes: "With regret, I should let you know that the British Government has not been successful in its recent court case here involving deportation to Libya. I am very disappointed at the Court's decision." Blair then goes on to thank Gaddaffi for his "assistance in the matter of deportation".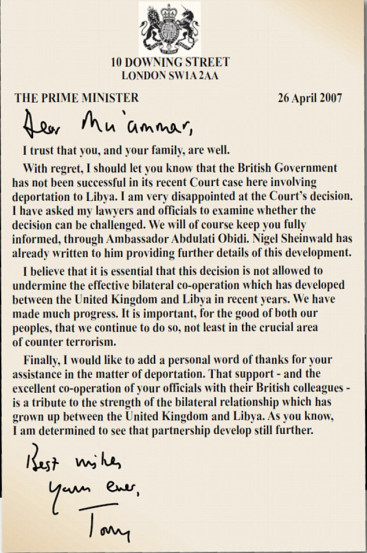 According to The Guardian, documents found in government offices in Libya following the overthrow and killing of Gaddaffi reveal that Libyan intelligence officers were able to work in the UK alongside their British counterparts from MI5.
MI5 gave the Libyans information – including a home address and phone numbers – for a Libyan "extremist" living in Manchester. He was persuaded to return to Libya where he alleges he was tortured and imprisoned.
Other Libyan dissidents were approached and threatened by secret service operatives during the same period.
Now 12 opponents of Gaddaffi are taking the British government to court, alleging they were subjected to "false imprisonment, blackmail, misfeasance in public office and conspiracy to assault."
Amnesty International UK's head of government affairs Allan Hogarth told the Mail that the UK government had no justification for deporting people back to Libya.
"Rather than cosying up to Gaddafi like this, Tony Blair should have held firm to the principle that people should not be bundled onto planes and delivered into the hands of their torturers."
Tony Blair's office have released the same statement released last month after a report on the CIA's use of torture was published by the US Senate intelligence committee.
The statement from Mr Blair's office reads: "For the avoidance of doubt, Tony Blair has always been opposed to the use of torture; has always said so publicly and privately; has never condoned its use and – as is shown by internal government documentation already made public – thinks it is totally unacceptable.
"He believes the fight against radical Islamism is a fight about values and acting contrary to those values – as in the use of torture – is therefore not just wrong but counterproductive."