The month of September kept Google busy, which released a bunch of its own apps on its Play Store, in addition to preparing for an event scheduled for 4 October. Social media and utility apps dominate the Play Store with some AI apps making their mark like the Alexa for Amazon's Echo. IBTimes UK brings you the top apps on the Google Play Store and here's why you should download them:
Google Allo
This has to be the biggest app launched in late September and it has already raked up more than five million downloads in just a week's time. The fun messaging app, which aims to take on the likes of WhatsApp, Facebook messenger and Snapchat, comes with Google's AI botnet integrated into the messenger.
Now users do not have to get out of their chat windows to test Google's search techniques, listen to their favourite song on YouTube or even send across a location from Google Maps. The messenger also has a preview version of Google Assistant which is a potential competitor for Siri, but in text format.
Facebook Messenger Lite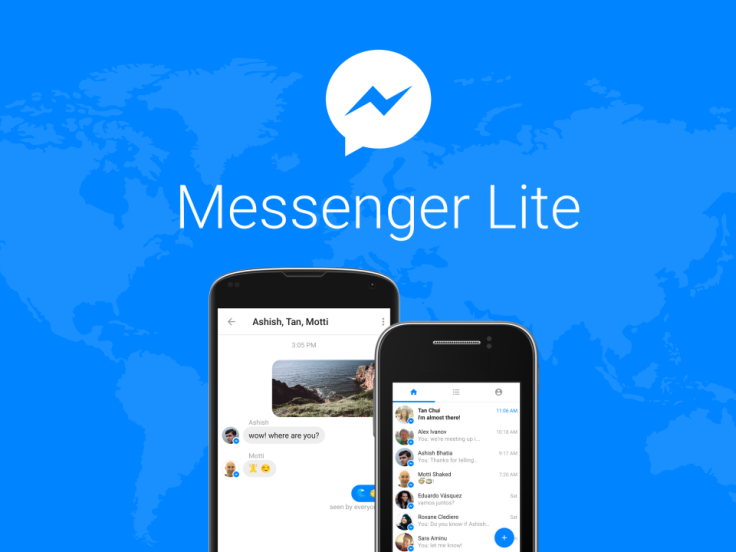 Freshly launched, the Messenger Lite – weighing under 10MB – is Facebook's attempt to spread its chat platform in markets that have limited or slow internet. The app is fast to install and quick to start and includes Messenger's core experiences such as messaging, sending and receiving photos and links, and receiving stickers. Messenger Lite uses the same bolt logo as the Messenger, but with colours reversed. The bolt is blue with a white chat bubble in the background.
Messenger Lite is being rolled out to people in Kenya, Tunisia, Malaysia, Sri Lanka and Venezuela. Look for Messenger Lite in other countries in the coming months.
Google Trips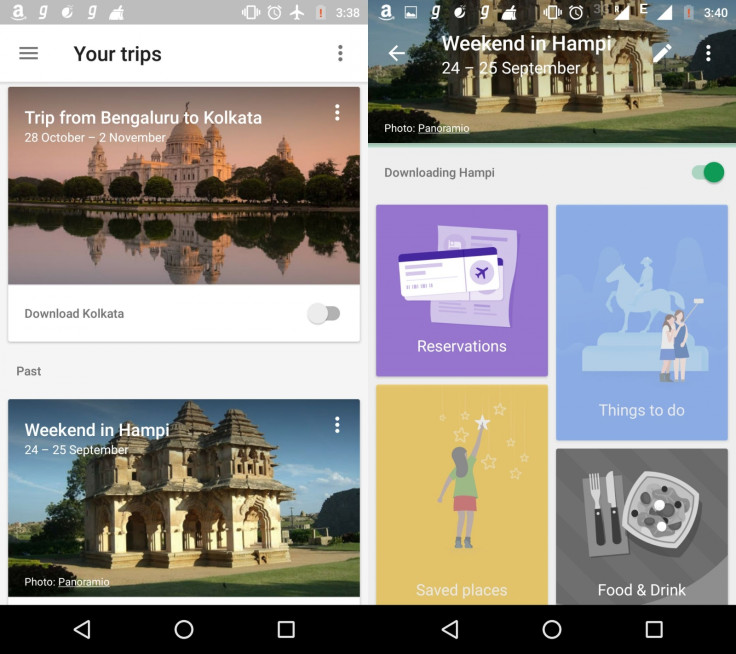 Another travel app has landed on the Play Store, but there is something special about his one. It is from Google itself and the app makes it easier and faster for a user to plan and organise trips. It automatically discovering new sights and tracks the user's travel information as per your movements. It scans every detail from your flight tickets on your Gmail to your hotel bookings and guides you through your travel.
FireFox Aurora
A developer channel for Mozilla FireFox, this app shows you the latest upcoming features and experimental builds. Since it is experimental, the app may crash at times. So if you're at all interested in what the Firefox team is working on get this app now.
Digit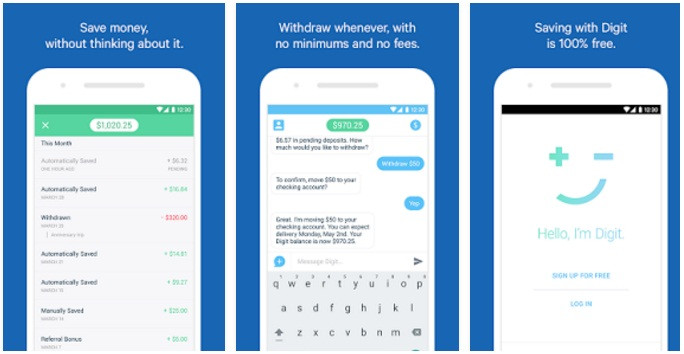 Digit is a financing app that acts like a digital piggy bank and helps you store money without thinking about it. The app checks your spending habits and saves a few dollars from your checking account. It analyses personal cash flow to optimise savings. No fees or minimum balance is required unlike a bank or digital wallet and you can take the money out whenever you want.
Conscient
This is an innovative automation app that launches particular apps whenever certain conditions are met.The developers of this app have made great use of Google'sAwareness API which helps it receive data from various sensors on the phone and figure out what one might be doing.
One can create users to create custom "fences" which require certain conditions such as walking, running or driving and lets you assign a specific app for those conditions. For example if you are moving at a very fast speed suddenly and the app sense that you may be driving or commuting it will automatically launch Google Maps to show you a preferred destination.
NewsPro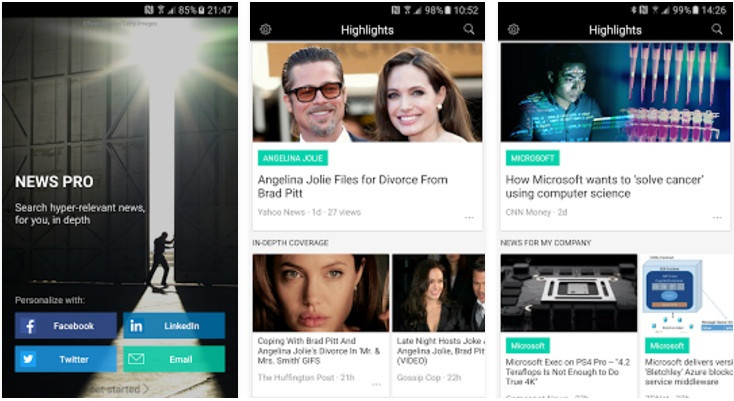 Developed under Microsoft's Garage Project, this app allows one to create a giant, personalised news feed based on their interests. One can add or remove topics of their choice as they see fit and news and updates from their preferred topics will show up first. The app is still at a preliminary stage so it may experience some crashes.
For those who love customising their user interface every now and then the Circle Sidebar puts your favourite apps in a floating launcher that pops out from the side of the display. Users can easily customise the way it works, with options to vary the icon sizes. It can be easily accessed from any screen with just a swipe.