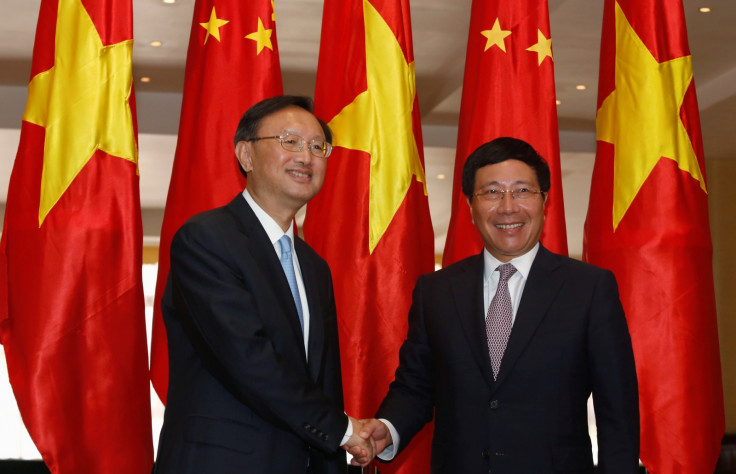 A top diplomat from China is meeting Vietnamese officials today (27 June) to strengthen ties between the countries, just as the Asian giant is engaged in a quarrel with the Philippines over its claims in the South China Sea.
The visit of China's State Councillor Yang Jiechi in Vietnam has come just days before the international tribunal is said to pronounce its verdict over China's stake on the disputed waters. Philippines had filed a case against Beijing, and ever since China has opined that it would neither take part in the proceedings nor accept the Hague Court's arbitral judgment.
Yang will jointly preside over a "steering committee" later on Monday with the aim of strengthening relations and to guard against disagreements, Reuters reported.
Welcoming Yang to his country, Vietnam's Foreign Minister and Deputy Prime Minister, Pham Binh said: "We're glad to realise that the two nations' relationship over the time continues its positive development, despite some existing problems that need to be solved."
China continues to maintain that it has the support of 47 countries in the Philippines case. Meanwhile, the US has accused China of expanding its territory militarising a shipping route that is important to many countries.
However, it is believed that Yang will not try to win Vietnam's trust through this visit. Ha Hoang Hop, an academician from Vietnam, and a government adviser, said there was "no hidden agenda" behind Yang's visit and there were no compromises to be made over the South China Sea.
Although Hanoi is not involved in this case, it has shown its inclination towards Philippines in this issue, with ties between both the countries becoming closer and stronger in the recent past.
Meanwhile, Philippines, which launched the bold challenge against China at The Hague Court has decided not to make any public statement until the court comes out with its judgement. Manila has also received pressure from China urging it to withdraw the case.