A former Tory candidate described as a "model member of the community" has been jailed with a group of men for a total of 88 years for smuggling guns.
Marcus Simpson, who narrowly lost being elected in his local elections in Corby, Northamptonshire, has been jailed for 16 years for smuggling weapons such as submachine guns and assault rifles from Serbia to sell on to drug gangs.
Conservative candidate Simpson, 42, lost the 2011 local election by just 170 votes to Liberal Democrat Bob Riley.
Upon sentencing at Wood Green Crown Court, Judge Witold Pawlak told Simpson: "It's not an exaggeration to describe you as a purveyor of death and fear.
"You presented yourself as a model member of the community who even stood to be a councillor. Behind this façade you were making at least two trips to Serbia to buy guns and ammunition."
Simpson was arrested with Ryan Groves following an arms deal in Tottenham, north London on 29 May last year.
The pair were arrested alongside Jerome Minnett, who helped them to sell the guns.
The men were accused of supplying guns to drug gangs in Chingford to be used in a long-running feud.
Three shootings took place in Chingford Hall Estate in April 2012, although no one was injured.
Prosecutor Quinn Hawkins described Simpson as the "head of the conspiracy".
He added: "He had a fascination with guns. He presented himself as a model member of the community, standing as a Conservative councillor for his home borough in 2011.
"He was the armourer. He was responsible for the purchases in Serbia and the manufacturing of guns and ammunition at his home address in the garage.
"Groves and Minott acted as salesmen, selling guns and ammunition to gang members and drug dealers.
"They sold these items in the full knowledge that they could be used to endanger lives."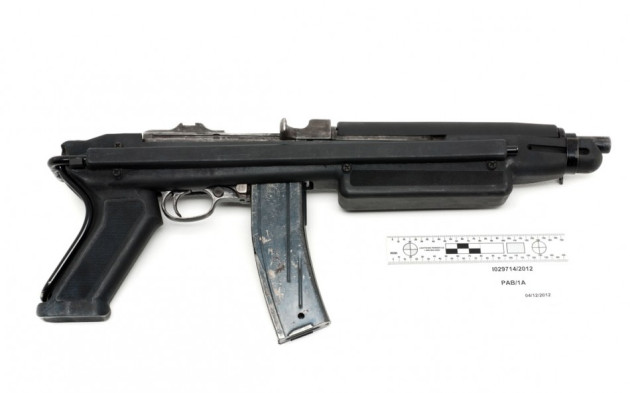 Simpson and Groves, 39, of Tottenham, pleaded guilty to two conspiracy charges, one of possession of firearms with intent to enable another to endanger life and a second charge of possessing ammunition with intent of enabling another to endanger life. Groves was sentenced to 12 years.
Minott, 27, of Acton was jailed for 12 years after being found guilty of two counts of conspiracy with intent for others to endanger lives.
Anthony Bennett, 28, of Waltham Abbey was found guilty of one count of conspiracy to possess firearms with Intent to endanger life and one count of conspiracy to possess ammunition with intent to endanger life. He was sentenced to 14 years.
Marcus Paul, of Chingford and Dylan Addo, of Epping, both aged 20 were sentenced to 12 years each for similar offences.
Jeffrey Larbi, 20, from Chingford was found guilty on two counts of possessing a firearm and one of possessing ammunition, as well as one count of conspiracy to possess firearms and another of conspiracy to possess ammunition. He was sentenced to 10 years in jail.
After the men were sentenced, Detective inspector Steve Meechan of the Trident Gang Crime Command East Proactive Team, said: "This was a lengthy and protracted investigation into a dispute between members of the same gang. Gang lifestyles can often be chaotic and lead to serious violence and this case goes some way in demonstrating the complex nature of Trident's investigations.
"The criminal activity of those convicted has caused misery to local residents and the local area, creating a hostile place to live due to their violence, criminality and anti-social behaviour.
"There have been no shootings on the Chingford Hall Estate since the last three shootings that took place in April 2012."