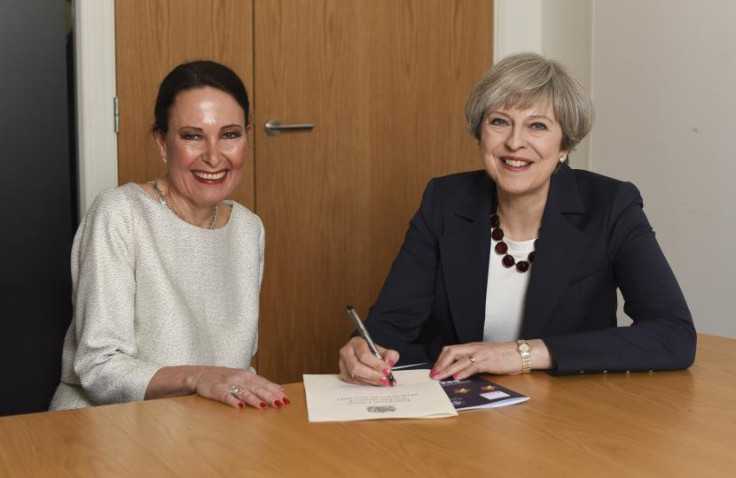 Tory MP Anne Marie Morris has been suspended after using a racist term while discussing Brexit deals at a central London event.
Morris, MP for the Devonshire seat of Newton Abbot, was recorded describing the potential of the UK leaving the European Union with no deal as like a "n****r in the woodpile" during the event held at the East India Club in St James Square.
Responding to reports that just 7% of financial services would be affected by Brexit in 2019, Morris said: "Now I'm sure there will be many people who'll challenge that, but my response and my request is look at the detail, it isn't all doom and gloom.
"Now we get to the real n****r in the woodpile which is in two years what happens if there is no deal?"
The "n****r in the woodpile" phrase originated in the US in the mid-19th century and was used to describe fugitive slaves who hid in piles of firewood while fleeing to Canada. It was later used in the UK as a metaphor to describe a hidden fact or problem.
Several MPs, including some from the Tory Party, had urged Theresa May to suspend Morris following her "outrageous and totally unacceptable" remarks.
The prime minster confirmed: "I was shocked to hear of these remarks, which are completely unacceptable.
"I immediately asked the chief whip to suspend the party whip. Language like this has no place in politics or today's society. "
Outgoing Liberal Democrat leader Tim Farron added: "This disgusting comment belongs in the era of the Jim Crow laws and has no place in our parliament. The Conservative party should withdraw the whip from Anne Marie Morris and they should do it today."
Andrew Gwynne MP, Labour's Co-National Campaign Coordinator, added: "Anne Marie Morris' comments are outrageous and totally unacceptable. While the Conservative Party has tabled a debate on Wednesday to apparently discuss and condemn abuse of candidates in the General Election, these comments prove their hypocrisy.
"Theresa May once spoke about changing the Tories' 'Nasty Party' tag. If she's serious about that, she will admit it's not enough for the Tories to 'investigate' and will apologise and act immediately. If that means withdrawing the whip, that's what they should do."
Speaking to the BBC, Morris said: "The comment was totally unintentional. I apologise unreservedly for any offence caused."
The recording arrived soon after Morris was forced to distance herself from comments made by her electoral agent and partner Roger Kendrick, who claimed "the crisis in education was due entirely to non-British born immigrants and their high birth rates".
Kendrick made the remarks at an event organised by the Newton Abbot Chamber of Trade at Devon's University Technical College.
David Cameron previously faced calls to sack Conservative peer Lord Dixon-Smith after he used the exact same phrase during a House of Lords debate on housing legislation in 2008.
Defending himself, the then 73-year-old said the racist remark had "slipped out without my thinking". He added to The Telegraph: "It was common parlance when I was younger, put it that way".