Tottenham manager Andre Villas-Boas has confirmed that midfielder Jake Livermore will be allowed to leave the club this month but only on a loan deal.
The midfielder has struggled to get into the first team this season with the likes of Sandro, Moussa Demble, Tom Huddlestone and Scott Parker all ahead of him in the pecking order.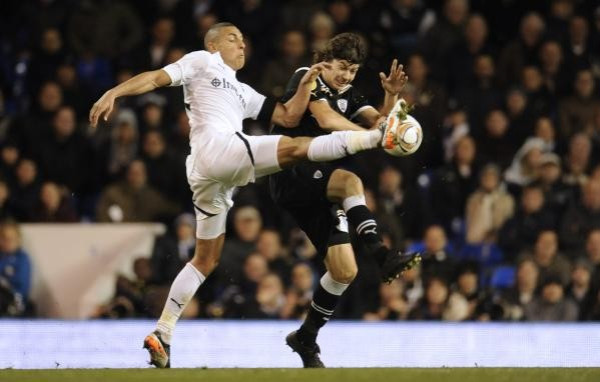 Villas-Boas admitted that he has done little wrong but believes that he deserves to be playing regular football and that may have to lead to him moving on-loan for the rest of the season.
"There is a couple of possibilities for Jake to get a loan deal," said the former Chelsea manager. "We are pretty happy with how he trains and how professional he has been but he hasn't had a lot of (playing) time.
"He is aware of these conversations. We just have to wait and see."
The Portuguese manager was also asked whether there was any interest in Brazilian striker Leandro Damiao after the decision of Emmanuel Adebayor to represent Togo at the Africa Cup of Nations.
Without Adebayor, Tottenham have just one senior striker in Jermain Defoe and there had been suggestions that the Brazilian would be targeted. However, despite admitting there is interest, Villas-Boas made it clear that any activity in January would be unlikely.
"Leandro is a player we've always appreciated, that this club appreciated before I arrived, but it's extremely difficult that he's going to join Tottenham," said Villas-Boas. "He's a player that is highly rated in the market, but it is highly unlikely that he will play for Tottenham."
"I don't think Adebayor's decision will affect our transfer policy. We've been pretty happy with the options we have available.
"We understand that we can put ourselves in a difficult position if one of our strikers gets injured, but we've been in this situation before when Adeyor was injured, and we managed to get through it.
"I think we're able to cope. We always believe in [Clint] Dempsey as a striker."
Tottenham have already tied up deals for defender Zeki Fryers and midfielder Lewis Holtby who is set to join at the end of the season. There had been a suggestion that the German international could arrive during the current transfer window but Villas-Boas made it clear that this would not happen.
"When you reach an agreement with a player that is a free transfer in the summer, there is always that possibility, but it is not something we are looking to do," added Villas-Boas.
Spurs travel to QPR on Saturday as they look to continue their impressive run of form and the 35-year-old is now concentrating on cementing their position in third place as they look to pull clear of their top four rivals in Chelsea, Arsenal and Everton.
He said: "Our objective is to shorten the gap to the top and open the gap to the teams who are below us so if that happens this weekend it would be perfect for us. That's what we hope for."