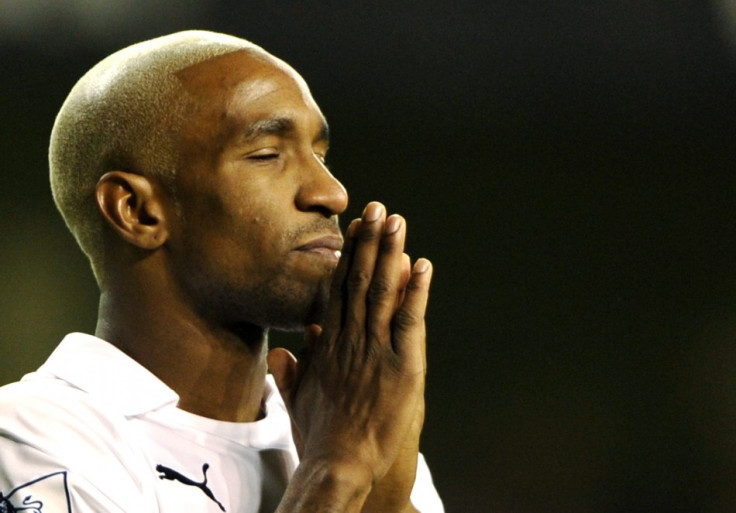 Tottenham manager Harry Redknapp has praised Jermain Defoe as "one of the finest" finishers he has ever seen.
The 29-year-old England international recently expressed concerns over his lack of first team football at Tottenham, amid reports Defoe's agent had informed the club of a number of his reputed admirers.
Redknapp admits he can understand Defoe's frustrations and has backed the diminutive forward to have a major say in this season's Premier League title race, beginning with Tottenham's visit to Manchester City.
The aforementioned Tottenham chief concedes the form of Emmanuel Adebayor, who is ineligible to play against his parent club at the Etihad this weekend, has left him no alternative in regards to Defoe, but suggests the former West Ham and Portsmouth star could be decisive against City on Sunday.
"Jermain Defoe is one of the finest finishers I've seen. It's been difficult for him at Tottenham this season and I can understand his frustration." The Tottenham manager told The Sun. "With Emmanuel Adebayor here, it's been a case of Manu and who else up front?
"Between 5ft 7in Jermain and Rafael van der Vaart it's been a tough call and Defoe's not played as much as he would have liked.
"Now, with Manu's loan terms preventing him from playing against his parent club Man City, Jermain has a chance to make a huge impact on the title race and the competition to get into the Champions League next season.
"We go to Man City having become much more consistent and durable than when they put five past us at the Lane in August.
"The only difference between us and City is that they can afford to pay players £200,000 a week.
"At the drop of a hat they can go out and buy Samir Nasri, Sergio Aguero and David Silva.
"No single game is going to define one of the most open title races for years but Sunday's clash will be a cracker.
"City have won all 10 Prem home games this term but it would be a fantastic achievement for us to go there and change that."
While happy to acknowledge the obvious challenge Tottenham face on Sunday, Redknapp believes his frustrated striker could have a major say in the match, intimating Defoe's pedigree and finishing prowess has never been in question regardless of the striker's peripheral role this season.
"Defoe could have a key role in that. I watch him in training and he has the shortest backlift of any striker, he barely bends his leg when teeing up a shot but then he is a brilliant finisher." Redknapp continued. "I've taken Jermain with me to nearly all the clubs I've managed. I signed him as a little kid at West Ham, he has been with me at Portsmouth and now at Spurs.
"He is a nice lad, always trains well and does loads of work for the community and for charities."
A victory for Tottenham on Sunday would not only end Manchester City's unbeaten home record in the league this season but also close the gap on Roberto Mancini's side to just two points. Tottenham's nearest rivals Arsenal and Manchester United also play at the weekend.