Tottenham forward Clint Dempsey feels his side are starting to fall apart under the pressure of securing Champions League football.
Spurs held a seven-point lead over rivals Arsenal, after their 2-1 win in the north London derby at White Hart Lane in early March. However, Andre Villas-Boas' men have gone on a downward spiral since that win, losing two and drawing one in their four league fixtures and are currently just two points ahead of the Gunners, having played a game more.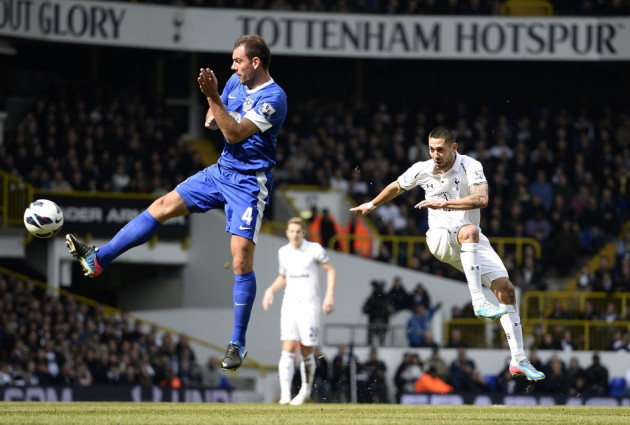 Spurs scraped to a 2-2 home draw against Everton last weekend, with Gylfi Sigurdsson equalising late on to save a point for his side. Tottenham have tough fixtures against Chelsea and Manchester City lined up for later in the league.
Their situation is akin to last season, where they blew a 10-point lead over the Gunners to finish one point below them at fourth and missed out on Champions League qualification, owing to Chelsea's historic triumph in the competition.
Dempsey believes the ghosts of last season are playing a part in Tottenham's recent form, adding to the tension.
"That's the way it's kind of been the last few games at home. It's been tense. I've felt like that's how the atmosphere has been. Is it affecting performances? I don't know. It's been noticeable, in the last three home games. There are a few teams right there in the fight for the Champions League and it makes it more interesting for people to watch. It's a little bit more stressful but it's a good stress. At least we're pushing to try to get that spot," the American told The Sun.
Dempsey, who arrived from Fulham last summer, is hoping the situation will improve and the team will be able to show enough character to cross the finishing line in the race for top four.
"It's going to come to the end and, hopefully, we have enough character to get the job done. You've got to play. You've got to keep going and do everything you can to help the team," the forward added.
Spurs, who have been heavily dependent on Gareth Bale this season, are waiting on his fitness, with the Welshman expected to be back for the game against City on the 21 April.