Tottenham Hotspur centre half Jan Vertonghen has urged his teammates not to give up on finishing fourth, insisting nothing has changed from the Spurs perspective.
With the championship and relegation matters already settled, the race for fourth place and the right to play in next season's Champions League will be the most compelling subplot heading into the last weekend of the Premier League this Sunday.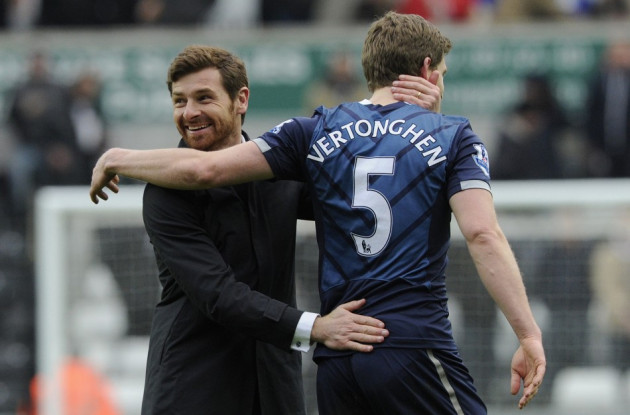 Arsenal's 4-1 win against Wigan Athletic on Tuesday night - which also condemned the Latics to relegation - means that the Gunners currently occupy the coveted fourth spot, a point ahead of Andre Villas-Boas' side on a tally of 69. The season and the relentless European race will culminate in two rounds of north London against the north east, as Arsenal travel to Newcastle while Spurs welcome Sunderland to White Hart Lane.
Arsene Wenger's side will pip their rivals to the Champions League spot providing they match or better Tottenham's result, but Spurs' towering Belgian centre half insists his side must not worry about the result at St James' Park, and focus on securing their own points against Paolo Di Canio's side.
"All we can do is win our games and it's important for us to keep believing," Vertonghen told Tottenham's official website. "We would have to do that anyway on Sunday, so let's hope we can."
Tottenham's hopes of securing Champions League football for just the second time in their history were in danger of evaporating before them last weekend when they were tested by a resilient Stoke City, before an 83rd minute winner from Emmanuel Adebayor restored hope.
Both Sunderland and Newcastle could have been fighting for their Premier League survival in Sunday's games, a detail that would have added greater emphasis to the already crucial fixtures.
But Newcastle's 2-1 win over the relegated Queens Park Rangers secured their survival last Sunday, while Wigan's loss at the Emirates last night ensured they were the final team to be relegated, sparing the Blackcats from a nervous final day.