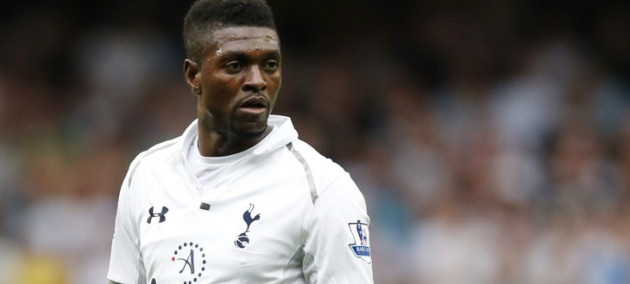 Tottenham Hotspur supporters who bought a replica shirt featuring Emmanuel Adebayor's name and old number have been offered a free exchange by the striker.
The announcement comes after the Togo international, who was given the number 25 shirt before the official Premier League squad list was submitted, chose to change it to 10 - the number he wore while on loan at White Hart Lane last season. Adebayor made 33 league appeances for Spurs last season, notching 17 goals and 11 assists.
"The number 10 is a special number for me and so when it became available I asked if I could change. The club were happy to accommodate me, but were conscious that a number of fans had already purchased their new shirt with the name and number printed on the back, after the squad numbers had been officially submitted ahead of the start of the season," the Metro quoted Adebayor as saying.
"I am very proud that Spurs fans want to have my name and number on their shirt and I didn't want them to be inconvenienced by this change. Therefore, I'm very happy to cover the cost to enable those fans to exchange their shirts - for an Adebayor 10," the 28-year-old added.
Adebayor wore the number 25 shirt during his time at Arsenal and Manchester City and also for Spurs this season against both West Bromwich Albion and Norwich City, before the international break. The number 10 shirt became vacant only after Rafael van der Vaart joined Hamburg on transfer deadline day.
Players are not generally allowed to change numbers during a season, after the official squad list is submitted to the Premier League. New goalkeeper Hugo Lloris has taken over the number 25 shirt from Adebayor.
"As a club we go to great lengths to ensure our fans are aware that squad numbers and players may change from time to time. We strongly communicate that fans should wait for the official squad numbers to be officially announced before getting their shirts printed with players names and numbers," Victoria Howart, the head of the club's retail department, said on the Spurs website. "In this particular instance the change has come after the club submitted the official squad list for the coming season, therefore both Ade and the club thought it was right that we offered fans the chance to exchange their shirt."
Spurs' offer extends only to fans who bought this season's jersey with the wording "Adebayor 25" on the back, between 23 August and 2 September.