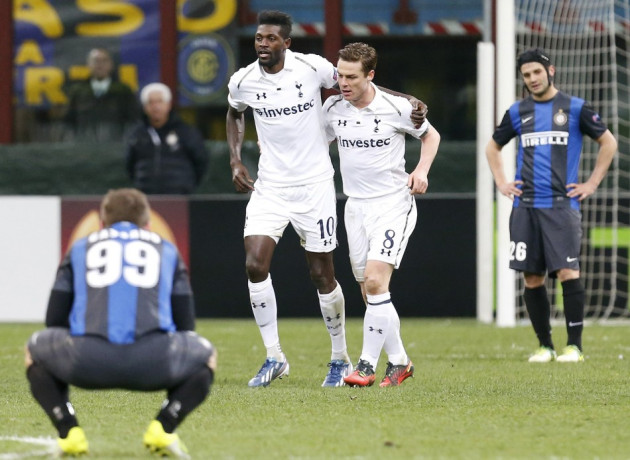 Emmanuel Adebayor is hoping to stay at Tottenham and fight for his place next season, with the striker unperturbed by the club's pursuit of David Villa and Christian Benteke.
After joining Spurs on loan in 2011, Adebayor was the club's top scorer and duly received a permanent deal from the north London club in tthe summer of 2012.
But he was unable to build on his successful 18 goal season over the 2012-13 campaign, managing to score just eight times in a period where Spurs came painstakingly close to finishing above Arsenal for the first time since 1995.
On the back of such a disappointing season, rumours have swelled that the star could be set for an exit, with Besiktas reportedly leading the race to sign Adebayor.
But the Daily Mirror reports that the former Arsenal and Manchester City hitman is insisting he will stay at Tottenham, hoping to see out the remaining three years ofhis contract and show that he was worthy of the permanent deal with the club in the first place.
Both Villa and Benteke have been widely reported as possible replacements for Adebayor, and Andre Villas-Boas will be keen to clear the striker off his wage books if he is in fact going to complete an overhaul of the attacking line-up.
While Tottenham can tell Adebayor they want him to leave, the power is in his hands as he has a long contract at the club and is under no pressure to move elsewhere.
One of the sticking points for the Togo international is that he doesn't want to leave the Premier League and so far the only interest Tottenham have received has been from overseas clubs.
While Villas-Boas has been hot on the heels of Villa for some time now, recent reports have suggested that other sides are also chasing hard, with Manchester United the latest name to be connected with the Spanish star.