Thousands of police officers joined by ordinary citizens attended the funerals for three of the five policemen shot dead by a sniper in Dallas. The funeral of Officer Lorne Ahrens, 48, of the Dallas Police Department, was held in the suburb of Plano. Mourners were told of Ahrens' work with the Los Angeles County sheriff's department and time as semi-pro football player before moving to Texas and joining the Dallas police force.
The 6ft 5in, 300-pound Ahrens was known as a gentle giant and a voracious reader whose intelligence was equal to his size. Dallas police officer Eddie Coffey described Ahrens as a calming presence and a down-to-earth man. "He was the guy you always wanted to show up as your backup," Coffey said. "He wanted to make sure everyone, from top down, made it home safely."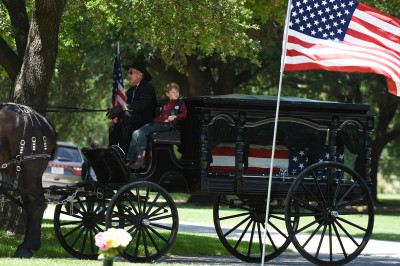 At a Dallas megachurch called The Potter's House, thousands of officers crowded into the funeral for 43-year-old Dallas Area Rapid Transit officer Brent Thompson. His wife Emily, a fellow DART officer whom he had married just two weeks before the attack, told the audience that the shooter, Micah Johnson, was a coward. "You know your hate made us stronger," she said.
Johnson was a former US Army Reserve soldier who told police that he was angry about the killing of two black men in Louisiana and Minnesota earlier that week and wanted to "kill white people", especially police. The shootings were the latest in a series of high-profile police killings of black men in various US cities that have brought intense scrutiny of police use of force, particularly against black suspects.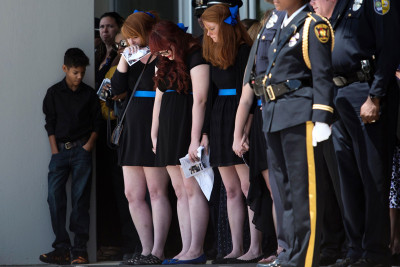 A few hundred mourners gathered for a Catholic funeral service in the suburb of Farmers Branch for Dallas Police Sergeant Michael Smith, 55, a former US Army Ranger known for his upbeat attitude and compassionate approach to others. Smith joined the Dallas police force in 1989. He once received a "Cops' Cop" award from the Dallas Police Association.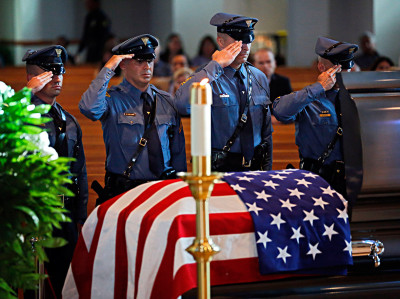 The funerals came a day after US President Barack Obama praised the slain officers' heroism, condemned the attack as an "act not just of demented violence but of racial hatred" and made an impassioned plea for national unity.
Funerals for the other two slain officers, Michael Krol, 40, and Patrick Zamarripa, 32, are expected later in the week.