British cyclist and Team Sky leader Chris Froome has hit out at continuing doping allegations surrounding his performances at the 2013 Tour de France. Froome is the overall leader this year, with a 4 minute 14 second lead to Belkin rider Bauke Mollema and Saxo-Tinkoff's Alberto Contador a further 11 seconds back.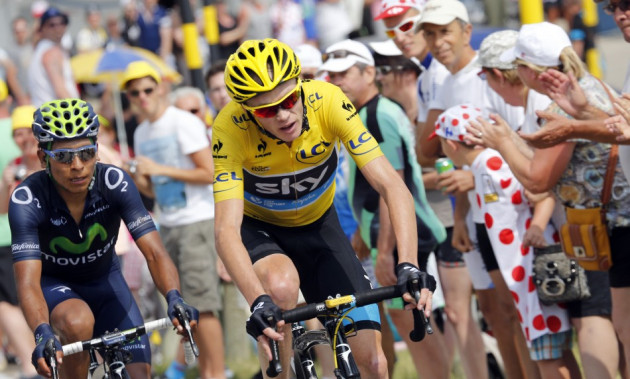 The 28-year-old Kenya-born athlete produced a stunning late charge up Mont Ventoux in Provence, to register a 29s win over Movistar's Nario Quintana. Froome attacked the leading pack with only 7km left in the gruelling 242.5km stage and broke away from Quintana to assume sole lead with 1.2km left.
However, speaking on the second rest day of the tour, Froome branded his critics "cheats" and "liars" and claimed he was upset at having to defend himself after a "historic" stage win.
"My team-mates and I have been away from home for months training together, working our arses off and here I am basically being accused of being a cheat and a liar. That's not cool. I don't know about that other stuff [doping]. I know what I have done to get here and I am extremely proud of what I have done," Froome stressed to local reporters.
The Brit also received support from Team Sky general manager Sir Dave Brailsford, who called for stricter drug testing norms and procedures to completely remove doubts of cyclists' performances.
We are thinking very hard of the optimum way of proving that we are not doping," he said, adding, "We have been thinking about the biological passport and how that works, with a panel of experts who get all the blood data from everybody and they evaluate that."
"Maybe Wada [the World Anti-Doping Agency] could appoint an expert and they can have everything that we have got. They could come and live with us and have all of our information, they could see all of our data, they could have access to every single training file that we have got," an annoyed Brailsford concluded.