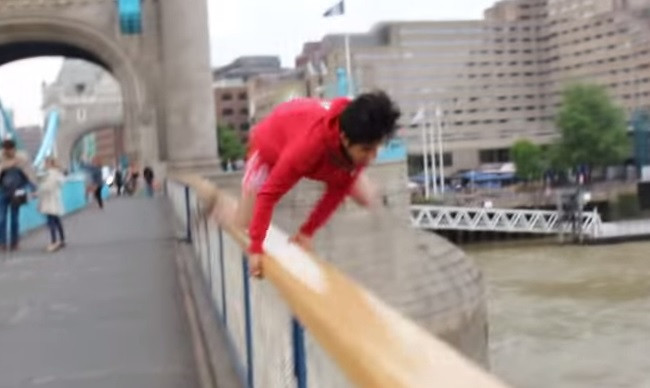 A YouTube vlogger has been criticised by London lifeboat services after being filmed jumping off Tower Bridge for a "stupid dare".
Performing arts student and video blogger Shah Faisal Shinwari uploaded the clip of him jumping into the Thames from the famous landmark to his YouTube channel Carnage, which currently has more than 27,000 subscribers.
The video shows him awkwardly slamming the water on his front and struggling to make it to the banks before being rescued.
The footage then shows Shinwari in pain and surrounded by emergency services as they attempt to get rid of some of the dirty water he swallowed in the process.
In his video, after being taken to St Thomas' Hospital for treatment, the 17 year old states on camera how much he regrets the stunt, which was originally a suggested dare from one of his subscribers.
He said to the Evening Standard: "My belly hurt so much. I had so much water in my lungs, and I swallowed so much. I think it was the dumbest idea I've ever had.
"I thought it would be fun, but so much stuff went wrong.
"I got lucky that I survived. It's not worth risking your life for a stupid dare. It was really dangerous.
"If it wasn't for luck, I wouldn't be talking to you."
Tony Wafer, coastal safety manager for the Royal National Lifeboat Institution, has discouraged people from copying the stunt.
He said: "As a lifesaving organisation that works on the Thames, we are extremely disappointed this young man chose to risk his life in this way.
"He was extremely lucky the outcome wasn't more serious.
"We're glad this young man regrets his actions, but we would strongly discourage anyone from doing anything like this. Jumping into the Thames from a bridge is extremely dangerous.
"The shock of cold water can make it very difficult to swim and strong currents can rapidly sweep people away."