Trainwreck star Amy Schumer and boyfriend Ben Hanisch call it quits
Comedic actress and the furniture designer met on a dating app in 2015.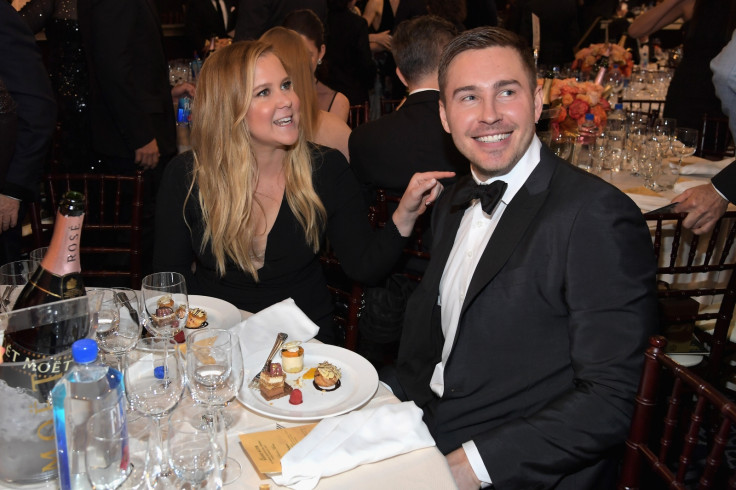 Amy Schumer's relationship with Ben Hanisch may not have been a 'Trainwreck', but it definitely has come to a final halt. The actor's spokesperson released a statement announcing the couple had decided to call it quits after dating for almost a year and a half.
"Amy and Ben have ended their relationship after thoughtful consideration and remain friends," the statement read.
The 35-year-old actress and her Chicago-based furniture designer boyfriend (30) first met in November 2015 on the dating app Raya. They went public with their relationship a few months later in January 2016 when Schumer confirmed the same to reporters.
"He was my first match," she told Howard Stern in an interview on 3 May. "The picture was him dancing with his grandma at like a wedding. It was really cute.
"There are so many douches on there. Just like, it's like, a lot of shirts off, it's like the guys all have a lot of mandatory shots in Europe where they're holding an old timey camera wearing like a scarf, doing a cannonball off a rock...or a motorcycle pic."
Hanisch also seemed pretty smitten with the Snatched star and even went on to describe her as the love of his life. "We both weren't looking for a relationship at the time, but something felt right from the very first night we met. We ended up spending 6 days in a row together," he said alongside a photo of the two of them on Instagram. "This pic was taken in New Orleans and was the night I knew I wanted to spend my life with her."
Going by the drop in social media posts about each other, things seemed to have taken a downturn over the past couple of months. Schumer last shared a flashback photo with Hanisch in March, of them getting ready to head for the Golden Globe Awards (8 January).
© Copyright IBTimes 2023. All rights reserved.