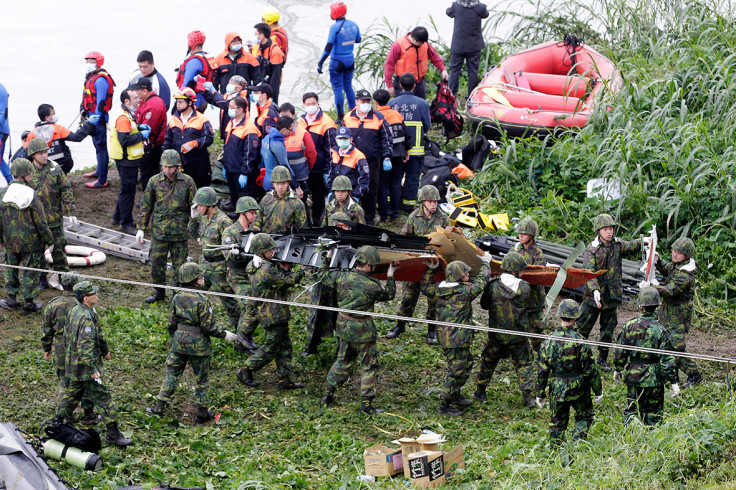 Switching off the wrong engine most probably caused the twin-propeller TransAsia plane to crash into a river in Taipei killing 35 people, say preliminary investigations.
The thrust from the right engine dropped seconds after take-off but the flight crew reduced power to the left engine, turned it off and attempted to restart it, but it did not gain enough thrust.
Whether the wrong engine was turned off by mistake or faulty data will have to be ascertained.
The combined lack of thrust from the two engines caused the almost-new turboprop ATR 72-600 to stall soon after take-off, Aviation Safety Council officials said after a preliminary study of the flight recorders.
The cockpit data and voice recorders showed that the plane warned five times of stalling before the crash.
"The first engine experienced a problem 37 seconds after take-off at 1,200 feet," Thomas Wang, managing director of the council, said.
The pilot had announced a "flameout" while onboard data reveals this had not happened. Fuel supply to an engine is interrupted under such an event or there is faulty combustion.
The plane was powered by two PW127M engines made by Pratt & Whitney, part of United Technologies.
A fuller report on the crash will be available in the next 30 days, with a final one expected in the next three to six months.
The bodies of Liao and his co-pilot were retrieved from the cockpit, with their legs badly broken, investigators said.
Eight people are still missing.
The crash follows many recent air disasters, including the recent one where Indonesia AirAsia Flight QZ8501 crashed into the Java Sea in December, killing all 162 people on board.
A total of 96 bodies have been found.