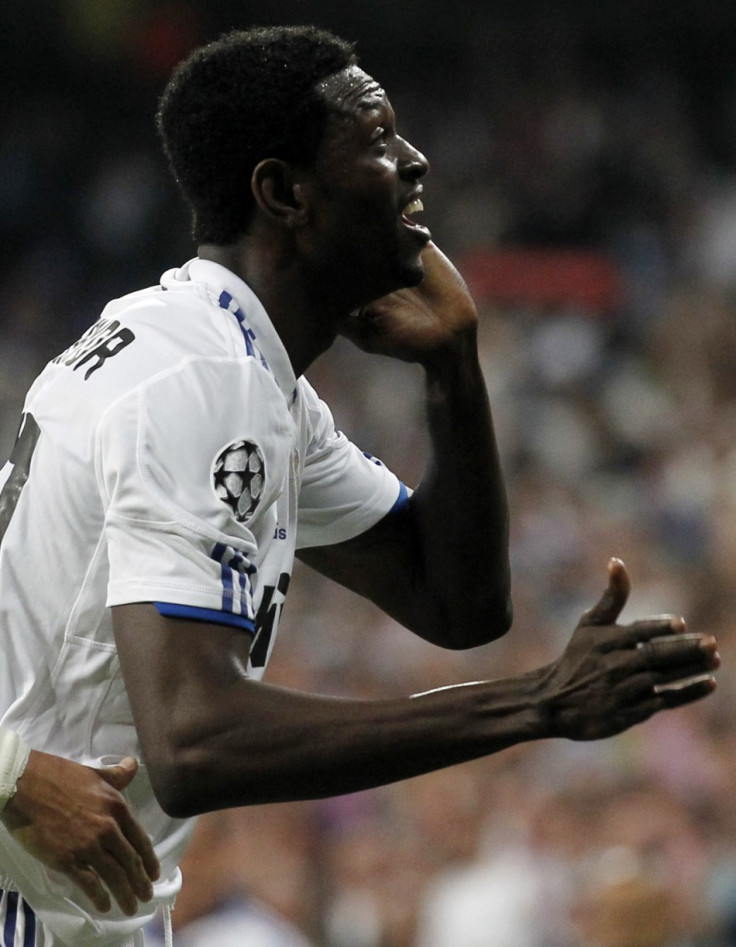 All the latest football transfer rumours from Real Madrid for 10 August 2011. Real Madrid are said to be ready to sign Emmanuel Adebayor if their bid for Neymar falls through. Andrei Arshavin has rejected reports he could move to Madrid and the club have rejected Tottenham's offer for Lassana Diarra. Barcelona's Pedro has said he fears the strength of Real Madrid next summer.
The Metro claims that Emmanuel Adebayor is set to leave Manchester City with Real Madrid the favourites to sign the player if Neymar does not join the Bernabeu this summer.
Emmanuel Adebayor spent the second half of last season at the club with Real Madrid and the club are said to be keen on bringing the player back this time on a season's long loan. Any potential deal hinges on whether Jose Mourinho is able to capture Brazilian wonder kid Neymar this summer. Madrid are said to have accepted that they may have to wait twelve months to sign Neymar and will look to Adebayor as a shorter term measure.
Arsenal winger Andrei Arshavin has rubbished talk that he would be on the verge of a move to Real Madrid.
The Russian has only twelve months left on his contract at the Emirates and it was rumoured that Real Madrid has begun talks with the player's interest. Arshavin has yet to sign a new deal with the club but he has rejected rumours he could join Madrid this summer.
"They are things invented on the internet," he told the Evening Standard. More than one time I have said that this season I will play in Arsenal colours. I would not play for Real Madrid for all the money in the world. For me, Real is a complete taboo because I'm an admirer of Barcelona," the Russian said.
Tottenham look set to fail in their bid to sign Real Madrid midfielder Lassana Diarra. Harry Redknapp is said to have highlighted the French midfielder as a replacement for both Jermaine Jenas and Wilson Palacios but Tottenham are said to be struggling to raise funds for the player.
Spurs reportedly held talks with Real Madrid on Monday in view to striking a deal for the player to move to White Hart Lane but the talks broke down over Madrid's valuation of the player.
Harry Redknapp signed Diarra for Portsmouth in 2008 and has being working on a deal to bring the player to white Hart Lane for some time but it now seems as though the club will now walk away from the negotiating table.
Neymar has rejected suggestions that he has disrespected Real Madrid. In an interview released by FIFA on Tuesday, Neymar suggested that Barcelona were the best side in the world and opened transfer speculation that he wanted a move to the Nou Camp.
However, Neymar has spoken highly of Real Madrid but remains coy on his future. He then went on to hail Jose Mourinho's side, saying: "It's a great team this year that can win it all with the players they have.
"Madrid is a great club with great history, one of the greatest, no doubt." However, Neymar would not be drawn on where he will be playing come the new season. "My future, we'll see," he added.
Barcelona star Pedro has said he expects Real Madrid to be a force for Barcelona to reckon with next season both in La Liga and the Champions League. Real have been ominous in their pre-season friendlies so far, winning all seven games and scoring 27 goals and only conceding five in the process, which is something Pedro admits could cause Barca some concern ahead of the coming season.
"Real Madrid will be even more dangerous than last year," Pedro said according to El Mundo Deportivo. "Their players are really fired up now and I think that it will be a long and tough season for us," he continued.