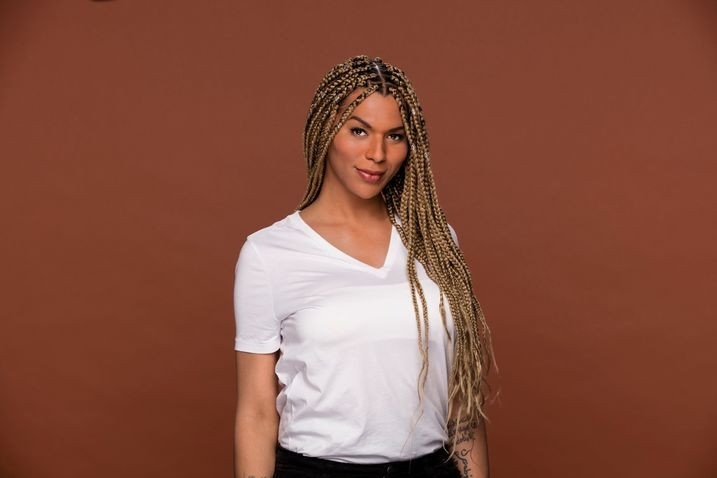 Munroe Bergdorf, a transgender model who was sacked by L'Oreal over a race row, was slammed for repeatedly using the word "n****r" during an intense debate on Good Morning Britain today (19 December).
Bergdorf was on the ITV show's panel discussing Twitter's new freedom of speech restrictions alongside broadcaster and writer Edward Adoo.
The pair discussed the recent move by the social media site to revise its rules on hate speech with hosts Piers Morgan and Susanna Reid.
The Twitter account of Britain First, a far-right group was one of the firsts to be suspended along with those of its two leaders, Jayda Fransen and Paul Golding.
Bergdorf agreed that Twitter was right to suspend these accounts, but she came under criticism when she constantly used the word "n****r" during the course of the debate.
She said: "Absolutely this is about abuse. This is about racism and trying to stem the amount of racism, especially with young white men in modern Britain today. These are the groups that are upholding it.
"I think it's very different with institutions when you've got businesses and agencies targeting individual people with abuse.
"I was called a 'n****r', I was called a 'black b***h', I was called a 'tranny' constantly by these people. Twitter [is] allowing these comments to go out there, people to be targeted. White people aren't oppressed. These groups are assembled to feed into a narrative of alt-right."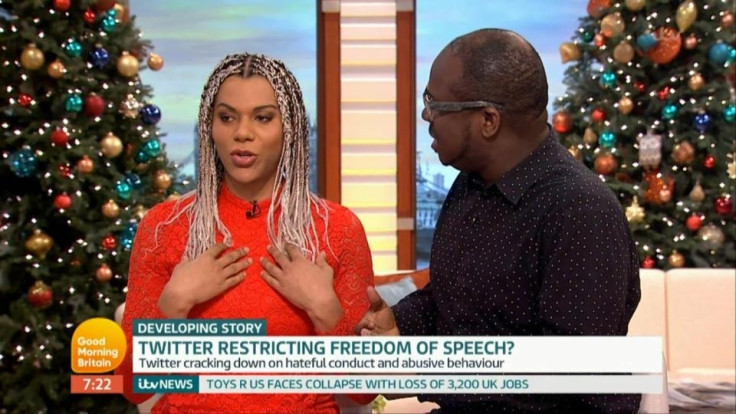 Reid had to interrupt Bergdorf as she said: "You can't just go round calling black women in the media..."
The TV presenter cautioned her saying: "I just need to interrupt just because you've already used words you can't use at this time in the morning."
But the 29-year-old model did not heed to the warning, as she went on to discuss the recent controversy surrounding Atletico Madrid star Antoine Griezmann, who dressed up as a black basketball player.
Bergdorf was livid as she said: "I can't say n****r but I'm going to say it."
To which her co-panelist Adoo replied: "This is breakfast TV."
Morgan then stepped in to say: "We would like you to stop using the word. My opinion is that the more that people use it, any colour, the worse it is."
Bergdorf, however, did not apologise and instead went on to defend her actions. She said: "This reaction of me using the N-word is seen as more violent than the fact that we are actually called this. Yet we are allowed to show blackface. It's highly racist."
She later posted an explanation on Twitter saying: "My use of the n-word was not random or w/o purpose. I wanted to highlight that the outrage of a black woman saying it around white people is often met with more outrage than the fact that black women in the media are barraged with this word by some white social media users."
Bergdorf, who is also a DJ and fashion designer, was sacked by L'Oreal just days after the company named her as one of the faces of the campaign #allworthit. In the wake of the Unite the Right rally in Charlottesville, she claimed that "ALL white people are racist" in a Facebook rant.
Her latest appearance on Good Morning Britain did not go down well with some of the viewers, as they took to Twitter to slam the transgender model.
But the model also had a few supporters who had her back: