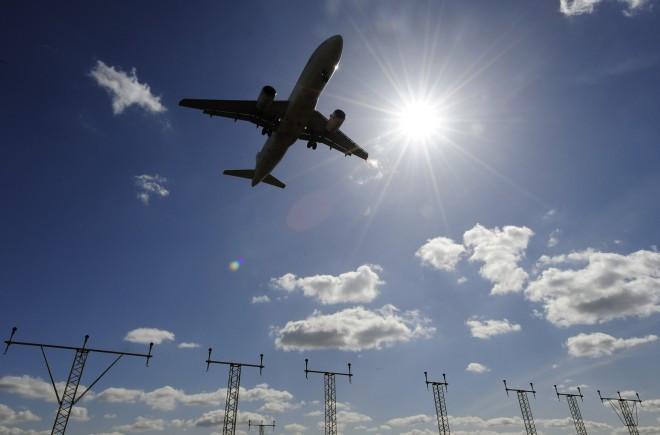 Flyglobespan was Scotland's biggest airline. Based in Edinburgh, it entered into administration all too suddenly on 16 December 2009 in rather curious circumstances involving several million pounds owed to it by its receipts-handling company. Flyglobespan's advice notice to customers, posted on its website at the time of its collapse, can be used as a typical and now all too familiar example for the 13 or so travel firms that have gone bust since:
"(insert date) All flights have been cancelled after (insert company name) entered administration. Passengers who booked a package holiday through an ATOL bonded tour operator will be automatically protected and should visit the CAA website for full details.
"Those who booked directly through the carrier's website will not automatically be protected. Affected individuals should contact their travel insurance provider or credit card company to obtain a refund."
According to the BBC on 17 December 2009, the collapse left 4,500 passengers stranded abroad, mostly in Spain, Portugal, Cyprus and Egypt. Keeping in mind the above advice notice, the BBC reported that the Civil Aviation Authority (CAA) expected to repatriate 1,100 of those stuck overseas, no calculator needed to work out the number of those making an alternative way home.
Many of those stranded were more than willing to speak to TV or press reporters. One point that many mentioned was their incredulity that no-one in authority within the company knew beforehand of the firm's imminent downfall, and permitted bookings to be made/taken, up to the last minute. This issue is one raised at nearly all such mishaps and is not an unreasonable one.
Not so widely highlighted and often missed by reporters or given less coverage, is the plight of the company's workforce. In Flyglobespan's case, 800 or so were facing almost immediate unemployment. Many were members of the Unite Union whose delegate emphasised that union members faced "misery and uncertainty" during the Christmas period. More to the point but less obvious, Unite's Fiona Farmer said: "Many crew are stranded overseas in Europe and beyond. (I'm) extremely worried about how they will get home and how they will support their families without a wage at Christmas."
That aircrew are not protected or guaranteed automatic repatriation and their last pay day, probably end November for Flyglobespan, was exactly that, only emphasises the finality of their employer's downfall.
It was very lucky for Scotland that in January 2010, a company that "was going through a period of strong growth" according to its director, was able to fill the breach. Paul Moss, the director, was thrilled to offer the new air service to Glasgow with an expected April 2010 start. Kiss Flights would operate to Spain, Cyprus, Portugal, Greece and Turkey using the Swedish carrier Viking Airlines.
Do things come in three's? Glasgow, along with Gatwick and Manchester, had been a hub for failed XL Airways which went into administration in September 2008 blaming the recession and high and volatile fuel costs - up $80 million on the year previous. Some 63,000 of XL's stranded passengers were ATOL protected, 27,000 were not. Paul Moss had been a director when the company crashed with debts of £100 million according to The Mail.
Sadly, numerous other tour companies have gone into receivership since Flyglobespan. Goldtrail Holidays collapsed on 16 July 2010. A mid-sized operator, 16,000 passengers were stranded overseas and 50,000 affected, though the BBC put the figure between July and Christmas at closer to 100,000. Despite these numbers, this company did not have its own airline.
Goldtrail went into administration on the Friday afternoon with the now standard, little or no warning. Mark McLay in Glasgow, told the BBC that he and his grilfriend were due to fly to Bodrum at 20.45 that evening but at 01.00 on Saturday morning "we were called together and told over the tannoy that Goldtrail had gone into administration, that we would not be flying and that we would be escorted out of the building."
Another passenger, Martin Plimmer in Manchester learned the hard way that the tour company he had arranged the holiday through, On The Beach, used Goldtrail for the flights only part of the package deal. He would have to pay for new flights and claim the money back through the CAA. He told the BBC: "Our predicament was however, that if we couldn't afford the flights, we would lose the £1,500 that we paid for our all-inclusive hotel because it was through a different company." Three contracts in effect, not one!
It's maybe just as well that Mr McLay and his partner and the Plimmer family didn't get to Turkey. Those already there were at the sharp end where hotels confiscated passports, refused food or drink, confiscated luggage, and called the local (unsympathetic) police, unless hotel bills were settled anew. Quite often the charges would be at the full desk-rate, not the package rate. Acting legally within their rights, these hotels feared that they would not be paid or would have a long wait before restitution was made by the CAA.
Next was the turn of Birmingham based Sun4U to go belly-up. Specialising in Spanish holidays it posted news of its demise on its website on 11 August 2010 at 9pm. According to reports, its call-centre staff of about 40 were only made aware of the company's situation on arriving for work on Thursday morning, the 12th. Twelve hundred holidaymakers stranded abroad this time, the usual ABTA/CAA advice and some unpleasant scenes at resort hotels. The Telegraph reported that the company had suffered from a drop in bookings caused by Iceland's volcanic eruptions and subsequent ash cloud in March this year.
Lastly and most recently, Kiss Flights went bankrupt on 17 August 2010 with about 13,000 stranded overseas and up to 70,000 travellers affected.
Ash clouds? Fuel charges? Recession?
Mike Greenacre, head of Cooperative Travel told BBC Radio 4 on 18 August that he had raised concerns with the CAA when Kiss was formed by parent company Flight Options in 2008. He said: "We were sceptical, and that was really based on the fact that we didn't think that the business model ...was sustainable.
"The product, the flights in particular, were just too cheap...We took a commercial decision not to sell (Kiss) flights."
Mr Greenacre told The Sun on 19 August: "When you're flying 5,000 miles you simply can't expect it to be for the same price as a second class rail ticket from Manchester to London..."
Maybe the whole industry needs to take Mr Greenacre's advice and thoroughly revise their operating model!
Lastly, the BBC reported on 18 August: London-based Flight Options, which has owned Kiss since January last year, ceased trading at 17.00 BST on Tuesday. It had bought Kiss from a company run by former directors of XL Leisure.
Funny that, it's a small world.