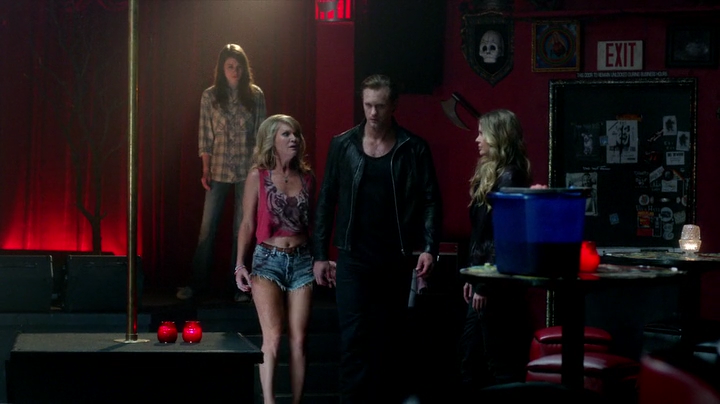 In the 9th episode of True Blood's final season titled Love is to Die, fans finally got to see the highly anticipated sex scene between Eric and his slave, Ginger.
True Blood is not new to such explicit scenes, yet Eric (Alexander Skarsgard) and Ginger (Tara Buck) Buck's segment will go down as the series' funniest sex scene in the HBO drama's history.
Tara Buck who plays Ginger in an interview with Tvline said: "This is a victory for Team Ginger!"
"I felt good! There was some teasing along the way from the writers that sex with Eric might be in Ginger's future, but I wasn't really sure if or how it would actually happen.
"Before I actually saw the script, Alex [Skarsgard] said to me, "Have you read the script? They finally wrote it! We finally do it." I was like, "We do?" And he was just laughing," she added.
The actress went on to talk about her comfort with Alex Skarsgard while acting out the scenes and also praised the writer for the 'wonderful scene'.
She said, "The writers wrote a wonderful scene, all the dialogue that leads up to it, but the actual act, the mounting and dismounting and whatnot, was not written, so we just figured it out right there."
She added, "Alex is amazing to work with. He's incredible and funny and has all these ideas. We did a rehearsal to block it out and get an idea of what was going to happen, and the director loved it and said, "Well, I think you should do it just like that.""
She revealed that she was actually given a body double for the scene.
"This was Ginger's big moment, and wasn't going to give one second away! So I had to figure out how to do all of it myself."
When asked whether Ginger was in the series finale or if that was the last fans would get to see her in the show, the actress said, "I'm just going to say this was definitely Ginger's climax — literally."
If you missed the last episode of True Blood click here to watch it online through live stream with HBO Go.