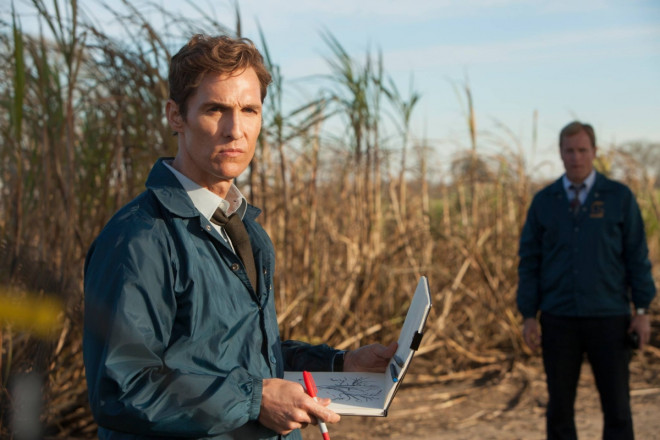 When the second season of House of Cards crashlanded on our viewing devices in one collective heap on Valentine's Day, the frenzied discussion it provoked seemed to cement Netflix's status as the new king of quality TV drama. How can you possibly top a Kevin Spacey-starring political thriller whose pilot was directed by Hollywood's David Fincher?
A period cop show set in America's Deep South, where the detectives are played by Matthew McConaughey and Woody Harrelson, is a pretty good start. True Detective, a startlingly ambitious and wildly engrossing new drama series from US cable powerhouse HBO, will be hoping to make waves in the UK when it screens on Sky Atlantic this Saturday.
Harrelson and McConaughey play detectives Marty Hart and Rust Cohle, one a down-to-earth family man, the other an obnoxious loner, investigating the ritual murder of a woman in the lush cornfields of Louisiana.
In a move common for British television but unprecedented in America, the whole eight episodes of the first series have a sole writer, Nic Pizzolatto, and director, Cary Joji Fukunaga.
Its big box office television, with sumptuous cinematography, an intricate plot that zips back and forth between a murder investigation in the 1995 and the present day, and two charismatic movie stars in the lead roles.
McConaughey has seen his stock rise and rise over the past few years as he turned away from schmaltzy rom coms to more artistic fair. But to agree to star in a TV series is still a bold move for an actor who could well have an Oscar statuette in his hands for Dallas Buyers Club by the time the first series comes to a close.
In the past television was something no serious actor with Hollywood aspirations would touch, especially after making it in multiple motion pictures. But in recent years Hollywood's favouring of blockbuster spectacle over challenging drama, coupled with the rise of cable and web channels with artistic ambitions, has seen this trend reversed.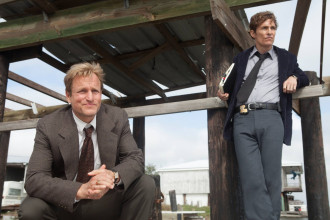 Oscar-winners Kevin Spacey, Kate Winslet and Dustin Hoffman have all found themselves turning towards TV, along with established movie directors Martin Scorsese, David Fincher and Michael Mann. It's no surprise that when indie director Steven Soderbergh struggled to find financing for last year's Behind the Candelabra, despite featuring Hollywood stars Michael Douglas and Matt Damon, HBO were more than happy to step in and see it made the screen.
HBO is hardly in trouble, with gothic/fantasy shows True Blood and Game of Thrones attracting a large global following. But from being the channel that with The Sopranos, Deadwood and The Wire brought in the current golden age of TV, there's no question its mantle as the home of quality television has slipped in recent years.
Since then, rival cable channel AMC has given us Mad Men and Breaking Bad, FX has produced Justified and Sons of Anarchy, and now Netflix has begun its own original programming with House of Cards and Orange is the New Black. Whether True Detective helps HBO regain its crown remains to be seen, but there's no question this cinematically styled thriller proves just how expensive, and expansive, television drama has become.
True Detective begins on Sky Atlantic HD at 9pm Saturday 22 February