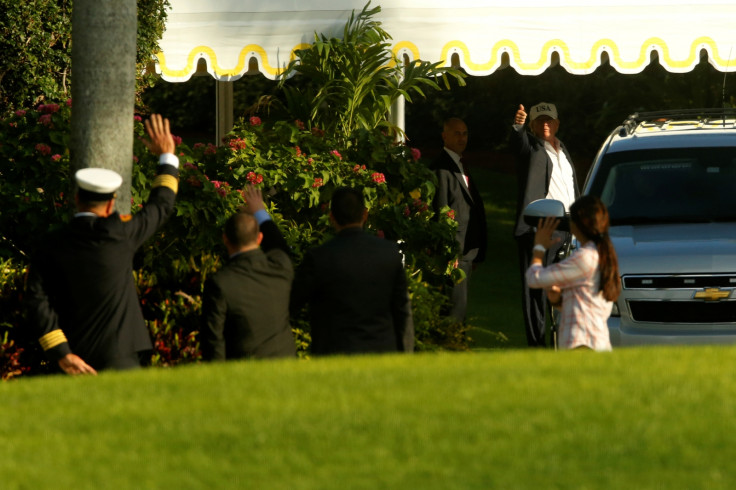 US President-elect Donald Trump reportedly had a biographer – who was critical of him in the past – removed from his Florida golf course on Friday (30 December). Trump told Harry Hurt III, who wrote Lost Tycoon: The Many Lives of Donald J Trump, that his presence at his golf club was "inappropriate".
Hurt told CNN that he and a group of fellow golfers, including Republican donor David Koch, were gearing up for a round at the Trump International Golf Club in West Palm Beach when they came across the incoming leader. He said he approached Trump "out of courtesy" to congratulate him for his victory.
Trump was reportedly not as welcoming as he had been in the past, Hurt said. "Donald will continue to exhibit the erratic behaviour he has exhibited his entire life," Hurt added. The writer first revealed he was removed from the golf course in a post on his Facebook page, CNN reported.
"Hurt, who has a scratch handicap and plays in colourful knickers, walked over to Trump on the practice range prior to his group's assigned tee time, only to suffer a tongue lashing from the President-elect," the post said. Hurt claimed he shook Trump's hand and offered his congratulations.
"Trump said, 'You were rough on me, Harry. Really rough. That s**t you wrote,'" the Facebook post alleged.
Hurt's 1993 biography of Trump included Ivana Trump's claim that she had been raped by her then-husband. The president-elect has vehemently denied the accusation, while Ivana has clarified that she felt "violated" during their marriage but did not intend her accusation to be taken in "a literal or criminal sense".
According to his post, Hurt said he "looked Trump in the eye, and said: 'It's all true,' to which Trump responded: 'Not in the way you wrote it.'" Hurt then alleged that Trump had his security team escort him and his golf group to the car park.
John Damgard, who was with Hurt, confirmed that they were asked to leave but said security was not involved, Politico reported. An associate of Koch told Politico that Hurt offered to take an Uber home so the three could continue playing at Trump's golf course. "And David said: 'No, we came as a foursome and we'll leave as a foursome,'" the associate said.
A transition official accused Hurt of "trying to instigate" and suggested he was looking for publicity. "The courtesy would have been to just tee off with David Koch and keep to yourself," the official said. "He could have easily teed off with Koch, and nobody would have said anything."
Koch, who is a member of the club, and the rest of the group instead went to play at a nearby course at Emerald Dunes.