Trump says Apple's Tim Cook promised to build three new 'big, big, big' plants in the US
During the race to the White House, Trump made bringing back manufacturing to the US a key campaign promise.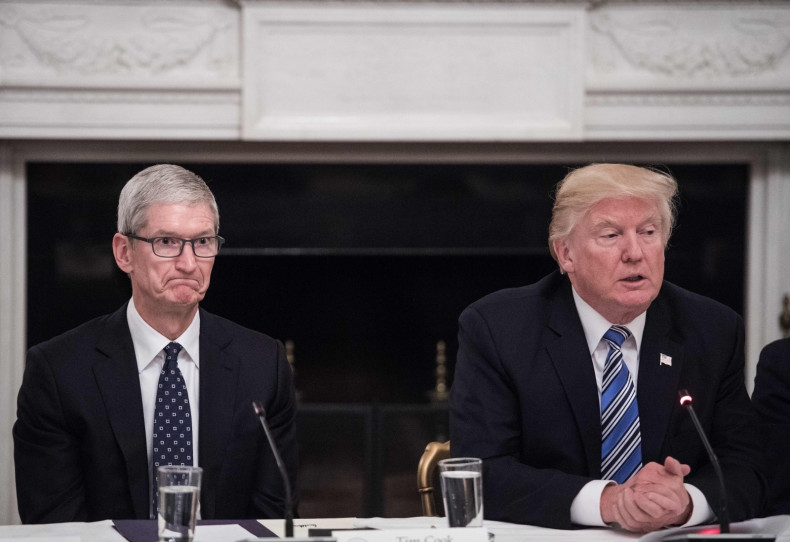 President Donald Trump said Apple CEO Tim Cook has committed to building three "big, beautiful" new manufacturing plants in the United States. In an interview with the Wall Street Journal on Tuesday (25 July), Trump reportedly said: "I spoke to [Cook], he's promised me three big plants — big, big, big."
"I said you know, Tim, unless you start building your plants in this country, I won't consider my administration an economic success", the president said. "He called me, and he said they are going forward."
Trump did not offer any specifics such as where they will be located or a possible time frame for their construction, WSJ reported. Apple declined to respond to the paper's request for comment.
During the race to the White House, Trump made bringing manufacturing back to the US a key aspect of his campaign. The then-presidential candidate also criticised many Silicon Valley companies during the election campaign, including Apple, which manufactures most of its products in China.
"We're gonna get Apple to start building their damn computers and things in this country, instead of in other countries," Trump said in a speech in January 2016.
He also called for a boycott of Apple products over the tech firm's refusal to help the FBI unlock the iPhone used by one of the shooters in the San Bernardino attack.
In February, Cook said Apple spent about $50bn last year at US-based appliers including 3M and Corning. In May, the executive announced plans to launch a $1bn (£768.1m) fund to invest in expanding manufacturing jobs in the US.
"By doing that, we can be the ripple in the pond", Cook said in an interview with CNBC at the time. "We're really proud of this, and so you can see, we're really looking at this thing deeply. How do we grow our employee base? How do we grow the developer base? How do we grow manufacturing? And you will see us bring things to market in all of those areas across this year. We're really proud to do that."
The company also claimed that it has created 2 million jobs covering all 50 US states, which includes 80,000 Apple employees, 450,000 jobs through the firm's US-based suppliers and 1.53 million jobs linked to Apple's App Store ecosystem.
The WSJ reported that Foxconn, a major supplier for Apple, plans to build a big plant in the US and is "strongly considering" having it located in Wisconsin. Last month, the Taiwan-based firm said it plans to invest over $10bn in a display-making factory in the US.