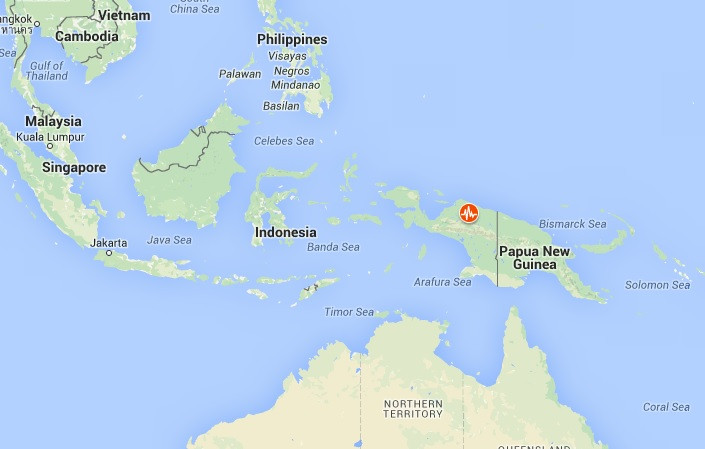 The US Geological Survey (USGS) says a magnitude 7.9 earthquake has struck in the waters off Papua New Guinea.
A tsunami alert was issued after the quake, according to the Pacific Tsunami Warning Centre (PTWC). This earthquake is considered to be a major one. Due to the depth of the tremors, shockwaves will be felt in a very wide radius, according to Earthquake Report. Maximum shaking values are reported as "very strong", but not considered as anything out of the ordinary for a country like Papua New Guinea and its neighbouring islands.
Strong tsunami waves could affect the coastal areas of Papua New Guinea, the Solomon Islands, Indonesia, Nauru and other islands in the hours following the quake, the PTWC said.
The quake struck 60 km to the east of Taron, New Ireland, at 8.51 pm local time (1051 GMT) and was originally recorded at 8.0-magititude and then slightly revised down to 7.9. It struck at a depth of some 75 km, according to the USGS.
An official tsnumai warning for New Zealand was issued by the New Zealand Ministry of Civil Defence & Emergency Management (MCDEM). At this stage, no evacuations are necessary but the organisation warned people to stay out of the water and avoid the beaches.
The last earthquake to hit Papua New Guinea was on 5 May 2015. The tremors struck the town of Kokopo in the north-east of the country. On 8 December, an 8.0 magnitude earthquake hit the Solomon Islands, which has been at the centre of several quakes in recent years.
Papua New Guinea sits on the Ring of Fire, the arc of seismic faults in the basin of the Pacific Ocean where a large number of earthquakes and volcanic eruptions are common. The USGS reports that around 90%of the world's earthquakes and 81% of the world's largest earthquakes take place along the Ring of Fire.