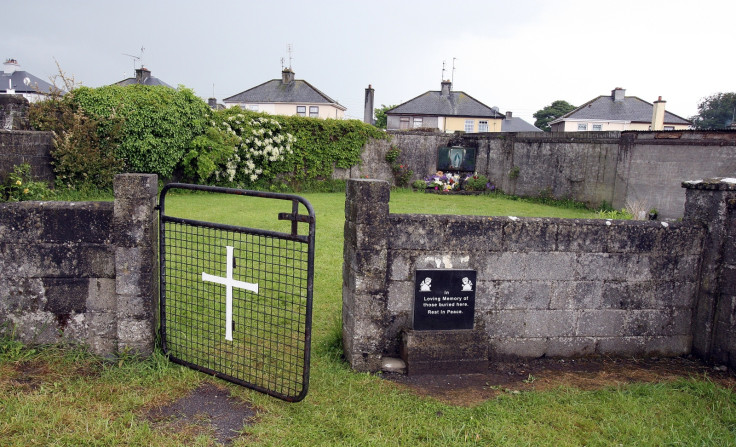 A significant number of human remains – thought to be mostly babies and infants – have been found in a sewage chamber at the site of a former Catholic orphanage in Ireland.
The discovery at the Bon Secours Mother and Baby Home site in Tuam, Co Galway, was made by investigators probing allegations that up to 800 babies had been buried in a mass grave there.
The judge-led Commission of Investigation into Mother and Baby Homes began excavating the site in October of last year.
It said on Friday (3 March) it was "shocked" by the discovery of "significant quantities of human remains" in 17 of 20 underground chambers believed to have been used for sewage or waste water.
It added: "These remains involved a number of individuals with age-at-death ranges from approximately 35 foetal weeks to two to three years.
"The Commission is shocked by this discovery and is continuing its investigation into who was responsible for the disposal of human remains in this way."
The remains were found to have been mostly buried in the 1950s, when the home, run by the Bon Secours nuns, was one of about 10 institutions in Ireland offering shelter to orphans and unmarried mothers and their children.
Branded "fallen women", the mothers were separated from their children who were raised by nuns until they could be adopted.
A child died nearly every two weeks at the Bon Secours home between the mid-1920s and 1960s, records show. The cause of deaths listed were commonly sickness or malnutrition. The home closed in 1961.
The discovery of remains – which follows work by local historian Catherine Corless – casts a further shadow over the history of the Catholic Church in Ireland.
The Commission said the relevant state authorities had been asked to take responsibility for the appropriate treatment of the remains.
The government's commissioner for children, Katherine Zappone, described the findings as "sad
and disturbing".
"We will honour their memory and make sure that we take the right actions now to treat their remains appropriately," she said.