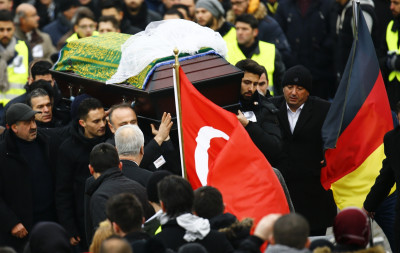 Hundreds of Germans paid their last respects to a young student who became a national heroine after she was fatally attacked by a thug for standing up for two underage girls during a fight.
Tugce Albayrak, 23, died on her birthday last week after almost two weeks in a coma. She was beaten up outside a McDonald's restaurant in Offenbach, near Frankfurt.
Funerals for the woman of Turkish origins were held outside a mosque in Waechtersbach, central Germany, on 3 December.
Turkey's ambassador to Germany and the Hesse state governor were among the mourners who watched Albayrak's coffin being laid on a stone table flanked by German and Turkish flags during the ceremony.
The aspiring teacher was then buried in her hometown cemetery, in Bad Soden-Salmunster, 8km from Waechtersbach.
"She was a strong-minded girl. I believe she would have been a perfect teacher," her aunt Reyhan Kes said.
The circumstances that led to her demise have shocked Germany, leading more than 160,000 people to sign an online petition for her to posthumously receive the Bundesverdienstkreuz (Federal Cross of Merit).
Albayrak was dining at McDonald's on a Saturday night, when a violent quarrel, involving three young boys and two girls reportedly aged between 13 and 16, broke out in the restaurant's toilet area.
Friends said she left her table and stepped into the argument to quell it upon hearing the girls screaming for help.
The boys subsequently left the premises but when Albayrak came out an hour later, they were waiting for her in a parking lot.
An 18 year old identified only as Sanel M, according to German privacy laws, reportedly punched her on the side of the head. The student fell, hitting her head on the floor, and entered into a coma.
Security camera footage of the incident was published earlier this week.
Albayrak's parents gave doctors permission to turn her off life support last week after she was pronounced brain dead.
Sanel M has been arrested by police and remains in custody.