A British tourist has said she thought she might have been "going back in a body bag" after witnessing the massacre on the Tunisian beach which claimed the lives of at least 30 Britons.
Ellie Makin from Ripon, Yorkshire, was on the beach with her friend when attacker Seifeddine Rezgui began shooting at the resort in the northern city of Sousse. Speaking to ITN, the 22-year-old said she and other tourists fled for their lives when the shooting started.
"Someone shouted: 'The gunman is coming to the hotel,' so we were all screaming by then and all scarpered. I went up to a higher level to hide in somebody's room, I didn't even know whose room it was, until someone told us it was safe to come out," she said.
"It was just awful. All we could hear was bomb grenades and shooting getting louder and louder towards us, so we didn't know whether we were going to be walking home or going back in a body bag. We just had no idea," Makin added.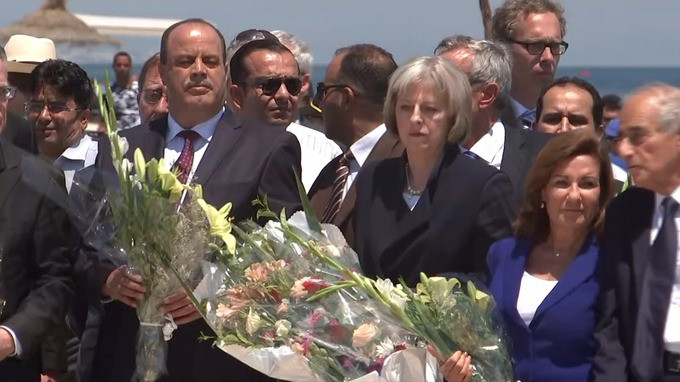 Thirty-eight people were killed in the attack, with the British death toll expected to rise to more than 30. Authorities have delayed naming the victims of the atrocity because many were not carrying identification when they went to the beach. It means families of Britons caught up in the incident face an anxious wait to see if their loved ones were killed.
Makin says that during the carnage she expected to die and so called her loved ones to say goodbye.
"I actually rang my dad the first time the gunman had shot on the beach and just rang him to say: 'There' s a gunman shooting everywhere, you need to tell mum.' Basically I was saying my goodbyes down the phone to my dad. I think by that time, once I'd gone up to the room after the gunman was coming towards the hotel I was texting my mum saying: 'There is a gunman, I love you'. Again, I was saying my goodbyes, because I didn't think I was coming home," she said.
"It was just terrifying and I never wish to go through another experience like that in my life. No one should see what we saw on that beach on that day," Makin added.
Met Police have deployed staff to Tunisia to assist in the aftermath while the RAF is preparing to fly out to the north African country to help evacuate casualties.