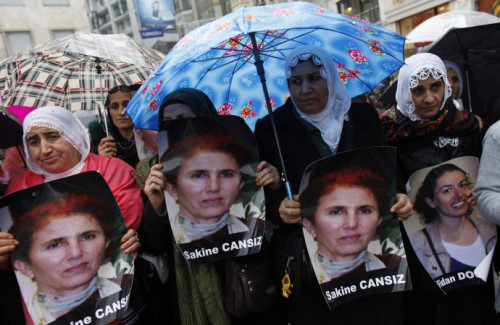 Fresh revelations on the killing of three female activists at a Kurdish information centre in Paris have pointed to a possible involvement of the Turkish state, according to reports.
French police found the bodies of Sakine Cansiz, a co-founder of the Kurdish militant separatist group PKK, Fidan Dogan, a representative of the Brussels-based Kurdistan National Congress (KNK) and young activist Leyla Soylemez at the information centre on Rue Lafayette, in the centre of Paris.
The three had reportedly been shot in the head, a circumstance that led French interior minister Manuel Valls to say the deaths were "without doubt an execution".
Chief suspect Omer Guney, a Turkish immigrant in France, was placed under formal investigation within about a week of the triple murder.
The latest development in the sage is a YouTube video that surfaced on 12 January, uploaded by an anonymous user "close to Omer Guney".
In the audio-only 10-minute clip it is possible to hear the suspect talking with two officials of the Turkish security services (known as the National Intelligence Organisation or MIT).
The three talk about a "mission", enlist the possible targets and even cite the names of the three women killed on 9 January 2013. They also give details on the killers' modus operandi and the weapons used.
"After having listened to the recording, we can say with certitude that it was Omer Guney's voice," said the Federation of Kurdish associations in France (Feyka).
The Turkish justice minister rejected the allegation and accused the Kurdish activists of a "denigrating campaign".
But other activists, such as the UK representative of the Kurdish National Congress Akif Wan, believe the clip shows an international conspiracy against the three activists.
The slayings came just a day after it was reported that Turkish officials and jailed PKK leader Abdullah Ocalan had agreed on a road map to end the three decade-long conflict between Turkey and the PKK, which has cost the lives of about 40,000 people thus far.
The deal reportedly included the PKK's disarmament and the abandonment of its project to create an independent homeland inside Turkey, in exchange for wider rights for the Kurdish minority.
"The Turkish government, France and Germany are involved in this international conspiracy," he told IBTimes UK. "The murder happened for political reasons. The activists were lobbying against war, for a political solution to the PKK/Turkey standoff."
Wan, 53, said he had been friends with one of the victims, Dogan, since 2000, and had last seen her two weeks ago at a KNC convention in Brussels.
Kurdish activists have often blamed Turkish government forces for the extra-judicial killings of militant separatists in Turkey, but the Paris executions marked the first-ever killing of a senior PKK member on European soil.