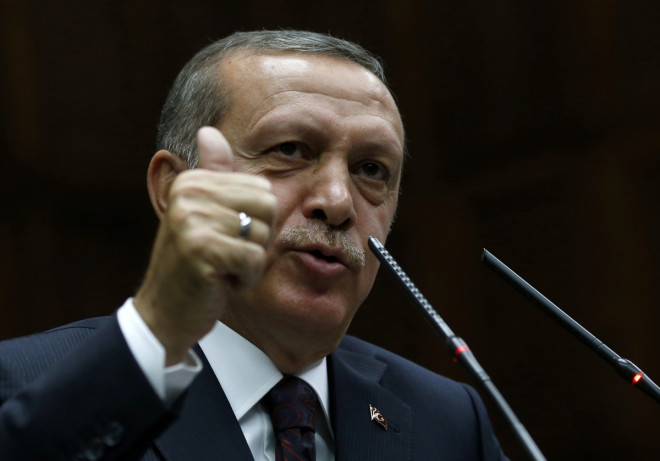 The ruling party of Turkey's prime minister Recep Tayyip Erdogan has started consultations over its presidential choice during a three-day camp in a luxury hotel amid tight security.
With Erdogan locked in a tit-for-tat war against the movement of Fethullah Gulen, an influential cleric in self-exile in the US, the issue of Turkey's presidency and who wins it has even more significance for the future of the country.
The energetic prime minister has flagged that he will express his intentions this month. Those with experience of his increased authoritarian style, which ignited the Gezi Park protests last year, suggest that he might be seeking a Putin-style presidential bid.
Erdogan is barred by the rules of his party from standing for a fourth term as prime minister and, although the party could amend those rules, he has made little secret of his ambition to become president.
Turkey's presidency, currently held by the dovish Abdullah Gul, has always been largely ceremonial but this August elections will see the head of state elected directly by the people for the first time.
It is true that Turkish prime ministers are the ones who pull the strings in government committees, command MPs and lead AK party decisions. But Erdogan's idiosyncratic personality and his ability to defy rules and even constitutional rights - as his recent ban of Twitter shows - confirms that he would not be sitting on a backbench or attending gala dinner with other head of states, but would continue to play an active role in running the country.
The leader of the opposition Nationalist Movement Party (MHP), Devlet Bahceli, has maintained that Erdogan should resign as prime minister if he runs for the presidency.
AK scored 44% in administrative elections in April but lost two million votes compared to the 2011 general elections.
Since then, a power struggle with the Hizmet movement of Gulen has emerged after a wave of high-profile arrests. Forty-seven businessmen and politicians, including the sons of three cabinet ministers, were put in custody on corruption and bribery charges.
Erdogan accused is 70-year-old former ally, who commands a global empire of media outlets, private schools and charities, of trying to topple his government through the graft probe and to have built a parallel state in Turkey, infiltrating police and the judiciary.
A formal request for Gulen to be extradited from his retreat in Pennsylvania is being drafted by Ankara.
To some, Erdogan's allegations of a parallel state verge on paranoia. The AK party meeting, for instance, was moved from the traditional location of a hotel in Kizilcahamam, a district of Ankara, because it belongs to a businessman close to the Gulen movement.
Gulen, who proposes a moderate and modern interpretation of Islam, has extensive influence in the Turkish police and judiciary.
Security forces are said to have raided the location of the AK summit in Afyonkarahisar to search for covert listening and surveillance devices. Members of the party were requested to leave their families at home.
With the general elections in sight in summer 2015, August's presidential elections may prove to be Erdogan's peak - or the start of his downward slope.