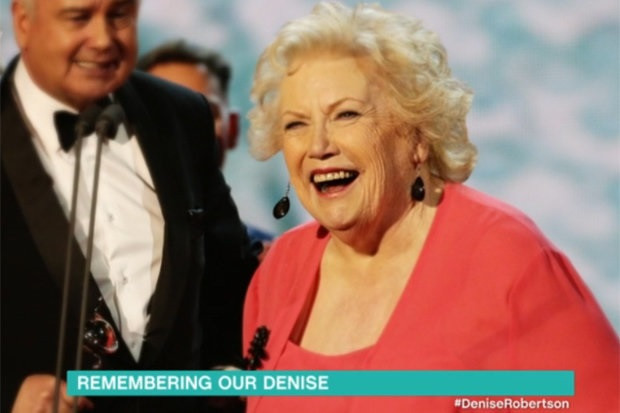 Tributes have been paid to Denise Robertson as she was laid to rest in her home town of Sunderland today (13 April). The much-loved TV agony aunt died on 1 April after a short battle with pancreatic cancer. She was 83.
Colleagues from ITV's This Morning on which she had appeared as a resident agony aunt since it debuted in 1988, attended the funeral along with close family and friends, while hundreds of fans lined the roads outside the church to pay their respects to TV icon dubbed the 'Angel of the North.'.
Her son Mark led the tributes as he recalled a woman dedicated to the care and service of others. "'Imagine having no idea how many people you had helped in the world, even if you rounded it up to the nearest million," he said. "When mum took on her role at ITV it was on strict understanding that they would help every correspondent, not just those who made it to air."​
Speaking at the emotional service, This Morning and Sky News presenter Eamonn Holmes, who first worked alongside Robertson at the BBC in the 1980s, described her as "a friend for life" as he expressed his sense of loss." You have to pinch yourself, is this really what we think it is? Saying goodbye to Denise," he said.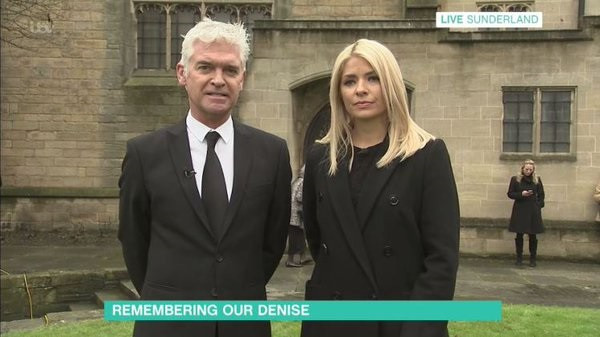 "You think when you leave school or university or college that's you finished with passing tests - until you met Denise Robertson, the matriarch of studio eight," he told mourners. "Never was there a more shrewd judge of character. She could spot a fake at a hundred paces but once you were in as a graduate of the Robertson Academy of Life then you had a mum, an aunt, a best friend, a shoulder to cry on and a friend for life."
He praised her professionalism describing her as "a TV natural." ​ "Make no mistake - the success of This Morning is partly down to this one woman. She had the unique gift of being a companion to a student, a young mum, a divorced housewife or a struggling pensioner - all could relate to Denise. If you had a problem, Denise had been there before you. And she was a television natural."
Today's This Morning programme was broadcast in part from Sunderland with hosts Schofield and Hollyw Willughby reporting from the church where Robertson's funeral was due to take place. "We're live from Sunderland as we prepare to say goodbye to Denise Robertson," Phillip said.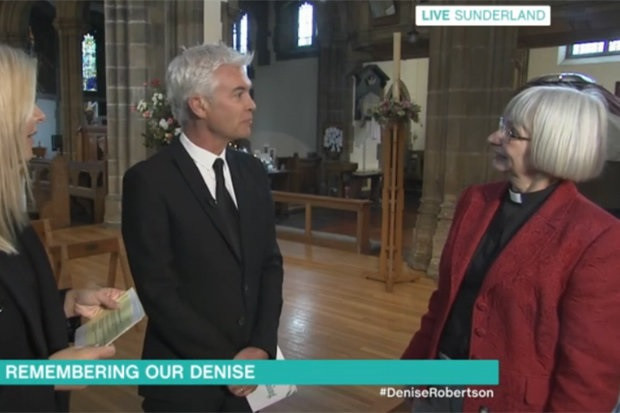 Speaking before the funeral, they shared their memories of Denise. Schofield recalled a woman who worked tirelessly to help those in need. "She was feisty, really, really tenacious and would power through authority," he said. "If someone told her 'no', it wouldn't make any difference." Phillip remembered when he first started on the show, he said: "When we both started the show we both sought her approval."
The decision to present the show from Sunderland before the funeral and broadcast the preparations was however deemed disrespectful by some viewers, with many taking to social media to express their discomfort. "Live from Denise's funeral though ... not sure how I feel about this .. #ThisMorning #DeniseRobertson," one tweeted.
"Oh what? A live funeral? Denise was lovely but televising her funeral is a step too far, surely? Have some respect," another posted. Another user tweeted: "Did I hear right? Phil and Holly are live from Denise's funeral? Will it be 'message us #TMfuneral'? *shakes head in disbelief*."
Robertson was awarded an MBE a decade ago and given the Freedom of the City of Sunderland.