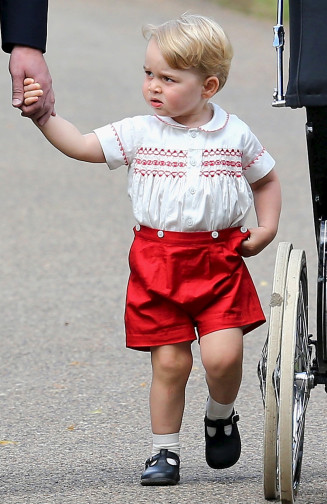 Controversial television personality, Janet Street-Porter has come under fire after calling Prince George, who celebrated his second birthday yesterday, a "cross-dressing millionaire."
The TV presenter accused the prince of wearing a "girl's blouse" in photographs published to mark his second birthday on Wednesday (22 July).
Her comments made on the TV programme Loose Women, caused public outrage, with one viewer saying: "Off with her head!"
In the TV episode, panelists were discussing Prince George's birthday celebrations when Street-Porter made fun of his outfit worn in a photograph taken by Mario Testino.
"Quite frankly he looks like a cross-dressing millionaire. He does, he's a millionaire, and he's got a girl's blouse on. All over the country it's other two-year-olds' birthdays, so happy birthday commoners," she said.
The Mirror noted how other other Loose Women presenters Coleen Nolan, Jamelia and Andrea McLean appeared shocked by the comments.
The Daily Mail said the outfit worn by Prince George – an embroidered smock and red shorts – cost £85 from designer Rachel Riley and was sold out within hours of the young prince wearing it at his younger sister's christening ceremony earlier this month.
The outfit, Daily Mail had pointed out on 5 July, was almost identical to the one worn by his father, the Duke of Cambridge, when he met his newborn brother Prince Harry for the first time more than 30 years ago.
The only difference was Prince William's white shirt had more embroidery, the newspaper noted.
Viewers upset by Street-Porter's comments
Viewers of the day time programme were quick to criticise Street-Porter for her comments on the royal toddler.
Laura tweeted: "As if Janet Street-Porter just called Prince George a cross-dressing millionaire. He's a baby boy. Off with her head!!".
Another viewer, Vikki Turner said Street-Porter needed to "get with the times old lady," while a third tweeted: "JSP is in a right mood on Loose Women today, bloody hell! Prince George is a two-year-old, cheer up love!"
There were however others who agreed with her views asking why the royals dress up Prince George "in such strange clothes."