Twitter is reported to be on the verge of a sale, with Google or US cloud computing company Salesforce amongst the potential buyers.
CNBC claims that the social media company has "received expressions of interest from several technology or media companies" and may be about to receive a formal bid.
While there's no sign that a sale is imminent, sources told CNBC that the company's board of directors are thought to be largely in favour of a deal that conversations around the possibility are "picking up momentum". They added that a deal, if one did materialise, could happen before the end of the year.
In addition to Google and Salesforce, Apple, 21st Century Fox and News Corp have all been floated as potential buyers, meanwhile TechCruch reports that Verizon is also eyeing up a bid.
Twitter has struggled to keep itself fresh in the face of intensified competition from rival social media platforms such as Snapchat and Instagram. Growth in user numbers has stalled, rising just 3% to 313 million in its most recent quarter.
Twitter recently relaxed is rules around character limits for tweets and turned its attention to providing live video streams in an effort to reinvigorate the brand.
Twitter shares react
Shares in Twitter surged almost 20% in early trading in New York on Friday (23 September). Twitter's share price rose to $22.43, putting the stock on track to reach its highest level since 6 January.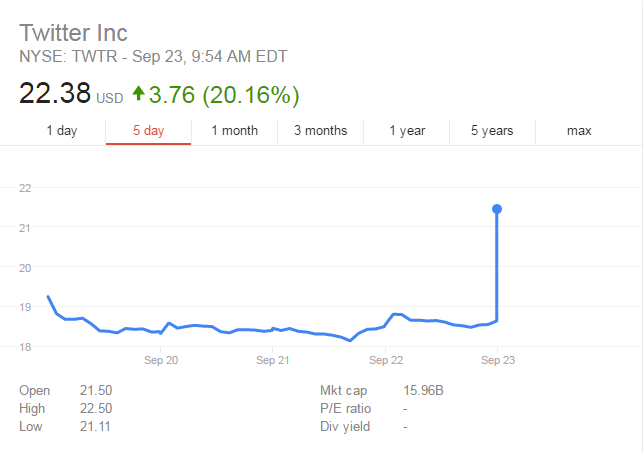 In pre-market trading, Twitter shares had fallen almost 5% after analysts at RBC Capital downgraded the stock rating from 'neutral' to 'sell' over concerns on the company's advertising revenue. Analysts also cut their target price from $17 to $14. Twitter has lost 19% this year so far, up until Thursday's close.
A close at current levels would see Twitter record the biggest one-day percentage gain since the social media giant went public in November 2013. The second-biggest gain, 20%, was recorded in July 2014.