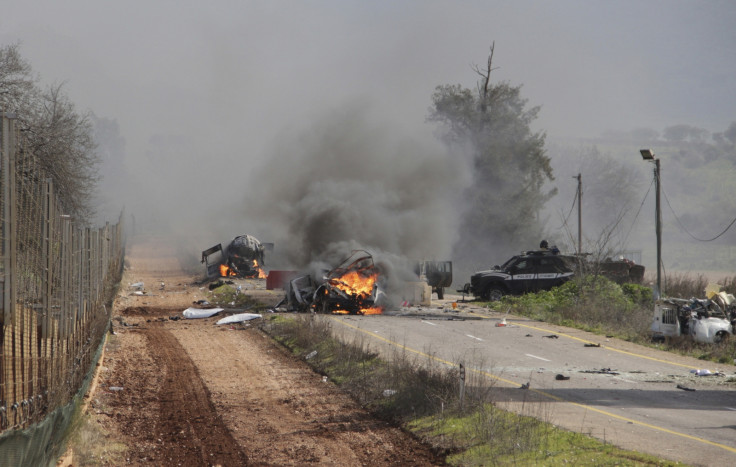 The IDF has confirmed two Israeli soldiers - a division command and an infantryman - were killed and seven others wounded in an anti-tank missile attack on an Israeli military convoy that has been claimed by Lebanese Shi'ite militant group Hezbollah.
The attack, which represents the worst incident in the border area between the two countries since 2006, provoked an immediate response of the Israeli military, which fired at least 50 artillery shells into Lebanon, according to Lebanese officials. A Spanish peacekeeper was also killed in southern Lebanon during the outburst of fighting.
A spokesperson for the UN force in Lebanon, UNIFIL, told AP and the Daily Star a Spanish UN peacekeeper was also killed in the incident.
Lebanon's Shi'ite militant group Hezbollah claimed responsibility for the attack on the Israeli military convoy saying "heroic Quneitra martyrs" destroyed the vehicles and injured officers among "enemy ranks".
The group said the assault comes in retaliation for the killing of six of its members and an Iranian general by Israeli air forces in the Golan Heights, near Syria's Quneitra border crossing with Israel.
The Israeli army responded to the attack by shelling the border villages of Majidyeh, Abbasiyeh and Kfar Chouba near the Shebaa Farms area.
The flare-up recalled the beginning of the Israel-Lebanon war in 2006, which was caused by a Hezbollah attack on an Israeli military vehicle along the border and the kidnapping and killing of two Israeli soldiers.
Israeli prime minister Benjamin Netanyahu confirmed the IDF is responding to the incident. "The IDF stands ready to act forcefully on all fronts," he tweeted.
He added that anyone challenging the Israeli army on the northern border should "look at what happened in Gaza". "Hamas suffered its worst blow since it was established," he said, referring to the Israeli offensive on Gaza last summer.
Foreign Minister Avigdor Lieberman, who is visiting China, said Israel should respond in a "forceful and disproportionate manner" to the attack.