The Windows Phone 8.1 update brings with it literally 100s of updates to Microsoft's smartphone operating system, but the one headline grabbing feature - Cortana - is not available at launch to those of us not living in the US.
Here we detail the two relatively simple steps you need to take if you really need to show off to your iPhone and Android friends that Microsoft now has an answer to Siri and Google Now.
---
First, get Windows Phone 8.1 Developer Preview
---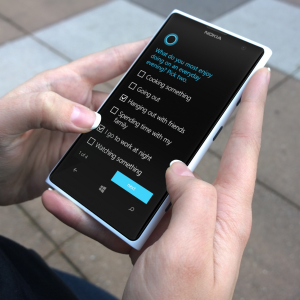 Microsoft has not released the final version of Windows Phone 8.1 yet, but it has released the developer preview and the important thing to note is that this is not only available to developers.
To sign up (free of charge) go to the Windows Phone App Studio website, sign in with your Microsoft account and create a new project. Next go to the Preview for Developers page for Windows Phone 8.1 and install.
Now a warning: This is a version of windows Phone 8.1 which is designed to give developers the chance to update apps ahead of public release. It is likely to be buggy and if you choose to install it, YOU WILL NOT be able to go back to an earlier version of Windows Phone.
It is also possible that Microsoft may discontinue updating its software with this app, meaning you could forever be stuck on Windows Phone 8.1.
You have been warned.
---
Say Hello to Cortana
---
Cortana is only going to be available to people in the US for most of the rest of 2014, with the voice activated personal assistant coming to the UK and China by the end of the year and more territories in 2015.
However one simple change to the settings and you can get Cortana to greet you today, even if you don't live in the US.
Simply go to the Settings menu and change the region to US and then change the interface language to English (United States). A reboot will likely be necessary (indeed a couple of reboots could be needed) but next time you turn on your smartphone you should be greeted by Cortana.
Simple.