Two US military aircraft were hit by rebel fire in South Sudan on Saturday, injuring three service personnel.
One US service member is reported to be in a critical condition after the attack, which occurred as military aircraft were en route to Bor, capital of Jonglei state, to evacuate US citizens. Bor has been the scene of some of the worst inter-ethnic fighting in South Sudan over the past week.
Officials told the Associated Press that the aircraft immediately diverted to Uganda's capital Kampala, from where the service members were flown on to Nairobi, Kenya, for medical treatment.
South Sudan's military spokesman Colonel Philip Aguer attributed the attack to renegade soldiers, who are in control of Bor under the command of former South Sudan vice-president Riek Machar, who has rejected claims by the government that he tried to stage a coup.
South Sudan President Salva Kiir, an ethnic Dinka, said an attempted government overthrow by Machar, an ethnic Nuer, triggered the violence, which has so far claimed the lives of at least 500 people in the capital Juba and displaced tens of thousands more.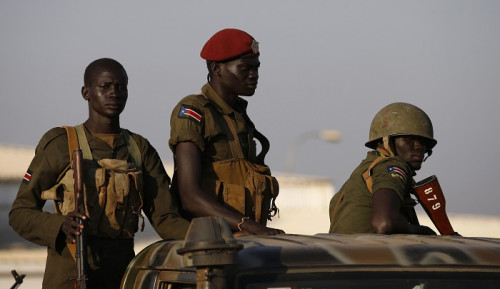 Officials also attributed the violence to a fight that broke out last week between Dinka and Nuer members of the presidential guard.
Aguer said Major General James Koang Choul, a key commander in the oil-producing northern Unity State, appears to have defected to Machar's side.
With oil production accounting for 95% of South Sudan's fledgeling economy, campaign groups fear that rebel forces could effectively hold the government to ransom if they capture the oil fields.
Kenyan President Uhuru Kenyatta announced on Saturday that troops would be sent to South Sudan to evacuate 1,600 stranded Kenyan citizens. Neighbouring Uganda also deployed troops to South Sudan on Friday to evacuate its own citizens and help boost security in the region.
Meanwhile, US Secretary of State John Kerry is sending Donald Booth, his special envoy for Sudan and South Sudan, to the region to encourage dialogue between the warring factions.