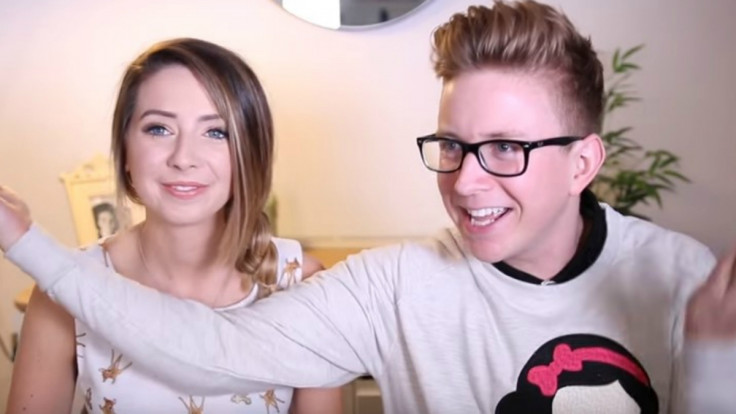 He has just released his first book and now Binge author Tyler Oakley will be taking the big screen by storm as the YouTube vlogger is set to appear in his first film. The online star has documented his life over the past year for his movie project Snervous and his subscribers may notice some familiar faces making appearances.
In December 2015, the US YouTuber will release the documentary in limited cinemas through Awesomeness Films and will give fans a behind-the-scenes look at his Slumber Party tour. Oakley, 26, will also share his experience of writing his first autobiography meaning some of the anecdotes which feature in the memoir, such as interviewing Michelle Obama and hanging out with YouTube friends such as Zoella, could feature in Snervous.
Speaking to the IBTimes UK's A-List, Oakley teased: "There are a lot of good little moments whether you love YouTube or just me, there are plenty of people who a YouTube viewer will recognise. I don't want to give away any spoilers but a lot of my favourites are in there." Oakley will be one of the first YouTubers to star in their own documentary and he explains that it was natural step.
The vlogger said: "I love watching concert documentaries and my favourite entertainers and performers on the road and seeing behind-the-scenes stuff and knowing more about their lives because what we see is not always what is [actually] happening. There's so much more to people's stories and I knew that this year was the craziest year of my life and just seeing my calendar at the start of the year, [I thought] 'There's so much about to happen this year, I want to remember it all.'"
Since creating his channel eight years ago, Oakley, 26, has become one of the most popular vloggers with more than 7.6m subscribers following his videos. Snervous will give these very subscribers an intimate look at the amount of work it really takes to become a YouTube celebrity and maintain an online career.
He explained: "Snervous came about because I said let's film it all and see what happens, not really knowing what was going to unfold but just making sure that I was documenting it and sharing the real honest truth about what it's like to be a YouTuber day-to-day. Not just uploading videos but everything single thing that goes into what I do in giving people an unfiltered glimpse into the good and the bad."
Oakley's autobiography, which also details his Twitter feud with One Direction and work within the LGBT community, is out now.
For more entertainment news, follow the IBTimes UK's A-List on Twitter