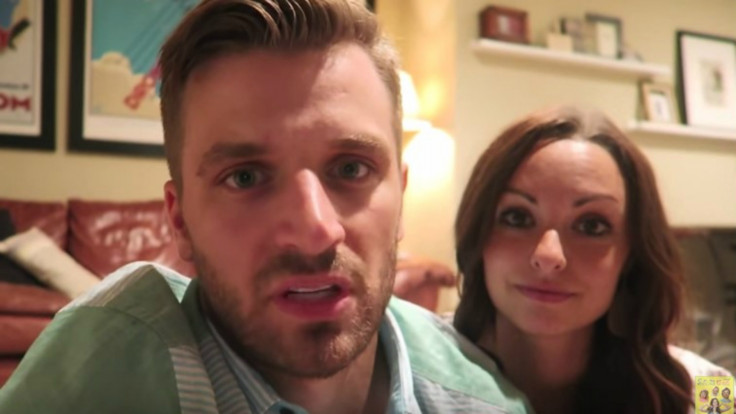 YouTube vloggers Sam and Nia have announced they are taking a break from the internet after weeks of controversy. The Christian couple became a viral sensation at the beginning of August but have quickly become some of the most unpopular people online. How did the couple fall out of favour with the public so fast?
In a new vlog titled: Why We Were Kicked Out Of Vlogger Fair, Sam Rader responds to the claims that he threatened two other vloggers at a YouTube convention in Seattle on 22 August over their alleged comments about Nia's recent miscarriage. Rader explained: "The first guy I approached, I told him that I had read what he wrote, and it extremely hurt our family. It actually brought Nia to tears.
"I told him I forgave him. I said, 'Just want to let you know, man, you caused a lot of hurt within our family but we've forgiven you, we've moved on, we've moved past this. I just want to let you know we've forgiven you'." Explaining the altercation with the second man, the vlogger continued: "I wanted to apologise, tell him I was sorry about it, tell him I lost my cool — nothing got physical at all.
Watch Sam Rader explain the Vlogger Fair incident:
"It was just a verbal altercation, but they were uncomfortable with us coming back in. Anyway, I'm deeply apologetic that I acted so stupid. There's just so much going on right now, and I'm just an emotional wreck. I'm very much an emotional wreck right now."
The 29-year-old then revealed that he and his wife would be taking a break from YouTube in light of the scandal. He told viewers: "The vlog right now is just not feasible for our life right now. We're going to take a break for about a week, maybe five to seven days — not really sure yet. Could be less, could be a little more. Not positive yet. As of right now we just know that we need a small break to spend time with each other, focus on what's important to us, but we'll be back."
The hiatus comes after the couple received a wave of backlash for a number of separate incidents. IBTimes UK takes a look at Sam and Nia's fall from grace...
The Pregnancy:
The world fell in love with the married couple when Rader filmed himself telling Nia, 26, that she was expecting their third child after he secretly tested her urine which was left unflushed in a toilet. The video has received more than 14.6m views so far and propelled the couple to viral stardom while painting them as the perfect family. However, the happiness sadly did not last very long...
The Miscarriage:
Three days after the announcement video was shared, Sam and Nia revealed she had lost the baby after suffering a miscarriage. Titled: Our Baby Had A Heartbeat, the couple explained that while they were devastated about the sudden loss, they were seeking comfort through their faith in God. Rader said: "I just hope this video continues to be a way for God to shine his light through us."
However, the general feeling towards the couple soured when the couple attributed their sudden boost in subscribers to the miscarriage, writing: "Our tiny baby brought 10m views to her video & 100k new people into our lives. She turned our life around & brought us closer together."
Quitting his job:
Viewers began questioning the sincerity of the couple when Rader told Nia he had quit his job as an ER nurse to forge a full-time YouTube career. It also caused some to accuse the couple of faking their initial pregnancy announcement. Rader responded to these allegations by admitting the video was indeed staged... by God.
Ashley Madison:
In another shocking turn of events, Rader was forced to admit he had signed up to the controversial cheating website Ashley Madison after his name was found to be among those in leaked data from the company. In a vlog titled: Forgiven, Rader claimed he did not use the website to cheat on Nia, describing it as "sinful curiosity".
The Vlogger Fair brawl:
As previously explained, Rader confronted two other vloggers for their comments about Nia's miscarriage, resulting in him being thrown out of the event. The couple are now taking a break from their YouTube channel and are expected to return in a week's time.