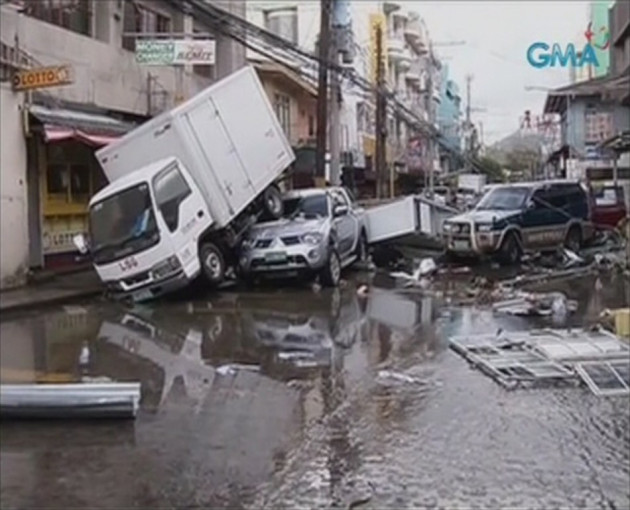 A Facebook user, who made distasteful comments against Filipinos even as super typhoon Haiyan wreaked havoc on the country, has come under fire.
According to Fbnws.com Jax Cote, who is reportedly a private elementary school teacher from Vancouver, British Columbia, responded to an update on the storm with a comment that reeked of racist hatred.
"so this means the world is getting rid a whole wack of Phillipino's about time God cleaned house!" she wrote.
Cote was bombarded with angry comments by internet users.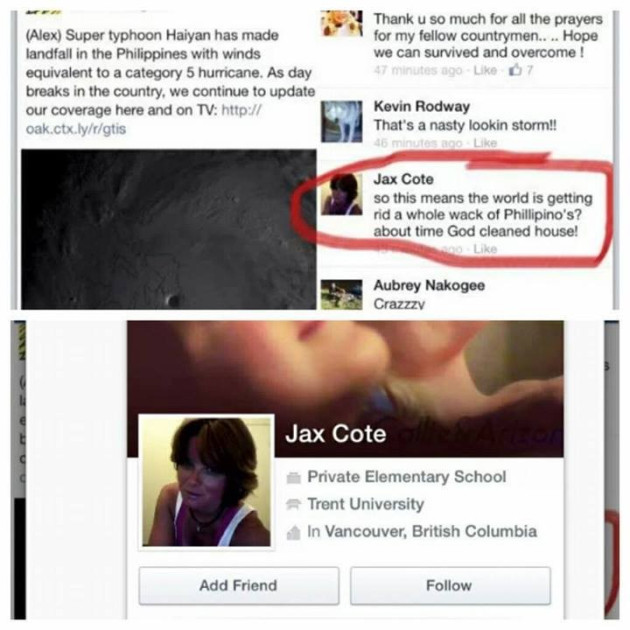 "Jax Cote comments is disturbing indeed but it does not reflect the sentiments of her race. I pray that when storm FREDA hit British Columbia, she or her race did not have to experience comments like that," Facebook user Jennifer Baluyot Dilla wrote.
"I am utterly shocked and disturbed to see this horrible comment at such a difficult time for the Philippines and Filipino people. My question to Jax Cote is why on earth would God be 'getting rid of a whole wack of Philippino's' anyway??? As far as I have seen and am aware, Filipinos deserve the utmost respect for all they do for us around the world. They are employed as nurses, doctors, carers and even Airline Pilots, all very caring and indeed vital jobs for us all, so why on earth would God or anyone for that matter want to get rid of them???? To #JaxCote and indeed anyone else who is minded to, STOP BASHING FILIPINOS, IT IS SIMPLY UNCALLED FOR!!!" Malcolm Conlan Full posted.
"A racist comment by #JaxCote to the Filipinos. She's a teacher in Vancouver but I think She's not a teacher she's stupid," Khim L Amata commented.
Cote's profile has since been deleted after the controversy erupted.
Previously, another Facebook user, Devina DeDiva, had made racist comments on Miss Philippines Megan Young after she was crowned Miss World 2013. DeDiva sparked controversy by referring to Filipinas as maids and that "they are poor, smelly from cleaning toilets and uneducated".
"Miss Philippines is Miss World? What a joke? I did not know those maids have anything else in them Ha Ha Ha," she posted on her Facebook account.
DeDiva, who had been working as an assistant teacher in Singapore, lost her job after the school's authorities came across her social media comments.